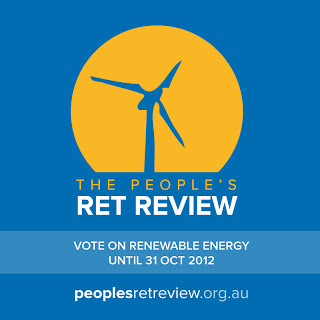 The Climate Change Authority is currently reviewing the Renewable Energy Target for Australia, and big power companies and miners are lobbying to reduce the renewable energy target. It currently stands at 20% by 2020. I think we can aim much much higher.
Australia is in an enviable position – we could actually feasibly achieve 100% renewable energy by 2030. This isn't a pipe dream – earlier this year, the University of Melbourne Energy Research Centre has released a report with
A ten year roadmap for 100% renewable energy
 Baseload energy supplied by renewable sources
 Affordable at $8 per household per week
A ten year plan for no carbon tax coz no carbon to tax. Good science behind it. Technologies that are commercially available today: wind power and concentrating solar thermal with molten salt storage. Even if you thought climate change was a low risk, this would be good insurance, and worth it just for the side benefits.
Investment in renewables is an opportunity for Australia to be a smart economy leading the world in innovation and science.  It is the polar opposite path to the $2 a day wages and trash the country pathway proposed by Gina Rinehart.  It's good work and good living all round.
I  love the internet, the way it can create an even playing field, where the power to create media rests on making sense, not money, where Gina Rinehart has the same volume as the rest of us.  Please have a say, and pass it on. It takes all of two minutes. There's Facebook buttons below.