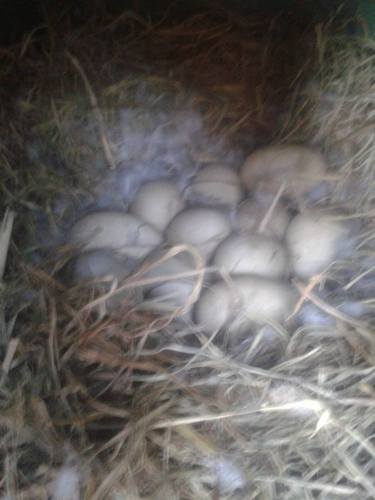 Eleven eggs in the first nest, and Jackie is sitting on them, and another two in a second nest.  So fingers crossed they might hatch a whole lot of goslings this year.  Last year was disastrous for them.  We had built a haybale shelter with access only from the water, thinking that would give them enough protection, but goannas managed to raid the nest over and over.  And geese in mating season are so noisy!  Months of being woken before dawn, and no goslings to show for it.
This year we have built a floating island on the bigger top dam out of recycled panels from a coolroom, with nesting boxes on them and a couple of stands of low electric fence surrounding the whole dam.  And we've spent the year getting the geese used to being fed at bedtime up there, then turning the fence on at night.  They can fly out over it in the morning if they want, but mostly they just wait to be let out.
The gaggle are fiercely protective of the goslings once they are hatched, but eggs and baby goslings are vulnerable to carpet snakes and goannas and hawks and eagles and owls and foxes and feral cats and dogs, and we've even encountered quolls here.
The idea is goose dinner once a month or so.  But there's another flaw in the plan beyond getting goslings past the predators.  Geese are one of the nicest and most engaging animals we've ever tried, much more intelligent and affectionate than chooks or ducks.  But if we can raise enough goslings, we can trade them with a neighbour and eat his.  I know it sounds silly but it just might work
[relatedPosts]