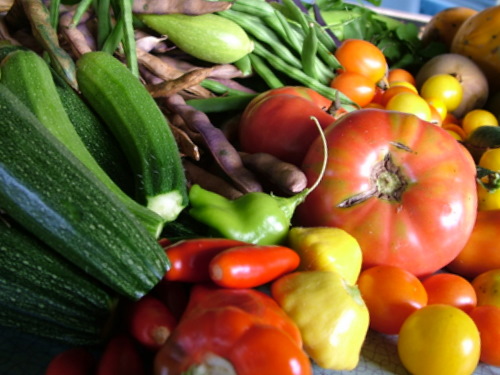 We thought it was going to be one of those super bumper years for mangoes, like 2010, when the trees were flowering, but it's turned into just an average good season. Mangoes  are biennial, and this is the good year, but it has been a bit wet around flowering time to be a huge year.  Still though, we have enough that mangoes have to be one of the two fruit.
The other one is a close contest. We still have  paw paws going strong, though it is getting to the end of their season. Our peaches are finished, but the local farmers market still has them coming from within my 100 mile range, from higher country up on the tablelands, along with nectarines and plums.  Our grapes had a very hard time in the wet last year, and I pruned them back really heavily to get rid of funghus diseases. The result is a smaller than usual crop.  Lychees are ripening, and the pomegranates are just about to ripen, and it's a really good year for them.  I really love using them. They add a lovely acid sweetness and jewel colour to salads and sauces and baking. I'm picking lots of tamarillos.
But I think number two has to be bananas.  The turkeys still get most of ours, and to make matters worse the geese have decided they like eating the palms. But this is the first real seasonal peak since Yasi.
With vegetables – zucchinis and all their relatives are in glut at this time of year.  I'm specially liking growing tromboncino for the first time.  Eggplants are always difficult for me – flea beetles are one of my troublesome pests –  but they are just coming into season now. I have lots of capsicums coming on, and enough chilis to be thinking about drying and pickling some. We're eating green beans  just about every day, and the bean jars are starting to fill with shelled dry beans for storing. I'm picking the first of the snake beans now, and we like them so much better than every other kind that the Purple King and Blue Lake will probably all get left to mature now.
I think I've got  cucumbers right this year, for a change. Usually I'm scaring friends away with bags of them by now too, but this year I have two or three different varieties bearing at any one time, and a nice amount for eating and gifting.  We eat some kind of cucumber raita or tzatziki most meals.  My ginger and turmeric have been liking the heat and rain, so with them and the chilis, and some coriander and cumin, I have most of the ingredients for curries from scratch.  My tomatoes are doing really well this year.  I'm making pesto from the basil, and I have lots of lemon, lime and Thai basil too. The first of the sweet corn is just about ready, and I'm just digging the last of the spring planting of potatoes.
But the pick of the lot, the five, would be: tomatoes,  basil, beans,  zucchini, and cucumbers.
So this is the harvest around which I base my cooking this time of year.  I'd love to hear what's harvesting in other places.
[relatedPosts]