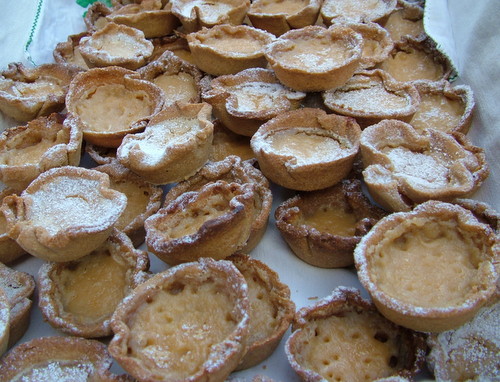 My glut crop at the moment is lemons. It's not quite the glut it was last year.  Last year at this time, this was what the bush lemon tree looked like, and we have four lemon trees of different varieties.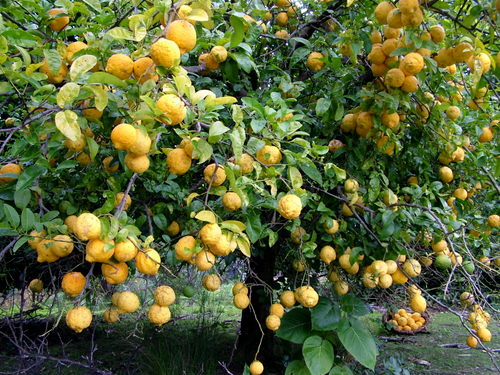 But at the end of the season last year, we pruned the tree fairly heavily – it was getting too tall and thorny to harvest effectively – and fed it with manure and mulch.  So this year we only have three trees bearing too many lemons.
These little lemon cheesecake tarts are a great party food – easy and cheap to make in bulk this time of year when lemons are in season, and they travel and keep well.   They cook so fast, you can make them in batches which means you don't need industrial quantities of baking gear – just a couple of muffin trays and a couple of biscuit trays.  They are wonderful warm in a bowl with a little cream, but just as good cold eaten straight from the hand, which makes them perfect for parties and no washing up. I brought these out at the end of a Halloween celebration (southern hemisphere Halloween, early May) and they were a big hit.
The Recipe:
The Pastry
Turn the oven on to heat up.  You want a medium hot oven.
I use my Braun food processor to blend:
4 cups of wholemeal plain flour
½ cup brown sugar
250 grams (1 cup, or two sticks) butter
till it resembles breadcrumbs.  It takes literally seconds in the food processor.  If your food processor won't do it, you can rub the butter in with your fingertips the old fashioned way.  Don't overprocess it – little flakes of butter are fine.  The key to making good pastry is not overworking it.
Then add cool water, little bit by little, till the dough holds together in a ball.  It will take about a third of a cup. Again, don't overwork it.
Roll the pastry out on a floured benchtop till it is ½cm or so thick, then cut rounds with a small bowl.
Lightly grease muffin tins with butter and line them with the pastry.  It will flute a little since the pastry is flat and the muffin tins cups, but that gives a nice shape to the finished tarts.  Prick the bottom of each with a fork, just lightly.  The holes should close up as the cases bake, and it helps stop them rising.
Bake the pastry cases for around 10 minutes till they are firm.  Try to catch them just before they start colouring.  I don't bother with beans or rice or anything to bake blind.  The pricking helps them not to rise, but if they do, it doesn't matter. You should be able to tip the cases out and line them up on biscuit trays for filling.
The Filling:
While the cases are baking, you can make the filling. Using the trusty food processor again, blend together:
1

½ cups of lemon juice
3 teaspoons of finely grated lemon zest
1½ cups of raw sugar (not brown sugar this time, or it makes the filling a caramel colour).
1½ teaspoons vanilla essence
6 eggs
250 grams (1 cup) Danish feta, or some other smooth, creamy, salty white cheese like goat's cheese. (Australian feta doesn't give you the same smooth texture.)
Baking:
Fill the pastry cases immediately before you put them back into the oven to bake.   If you fill too early, they soak in and the pastry is soggy. You will probably need to do it in a couple of batches, so halve the filling so you can fill the first and second batch of cases evenly. A jug makes filling easy, and you need a cloth to catch drips.  Don't overfill – they do rise a little and if they overflow or drip, the filling sticks and burns.
Bake in a medium hot oven for 15 minutes or so, till the pastry is just starting to brown and the filling is nearly set.  Take them out of the oven and dust with icing sugar, using a sifter or sieve to get a nice fine even dusting.  Put back into the oven for a final five minutes.
[relatedPosts]