I cleaned my bathroom for this photo.
I weeded the fig in the pot.  I hung the maroon towels because they look much prettier against the dark aqua wall than the torn barbie doll beach towel.  I threw out the old luffa. Cleaning done.
Oh how I love love love having a bathroom you don't have to clean.  The moss growing in the corner of the shower is supposed to be there.  The floor never needs mopping.   I put dirt in little crevices in the rock walls to plant ferns and tree orchids.  The late afternoon sun even has an angle that directly hits the towels hanging on the wall so they smell like they've just come off the clothes line.
Free hot water, orchids and maidenhair, a fat green frog, a bath that stays warm for hours with a view of the stars, candlelight playing on rocks, and plugholes that take the water out to bananas and mulberries. But really high up on even this list is that I finally, after all these years, have a bathroom that isn't just not cleaned, it's not in need of cleaning.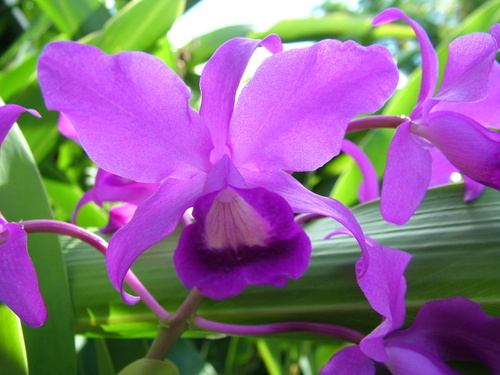 This is one of the two kinds of orchids in flower now, misted with overspray from the shower. I've never grown orchids before.
There's a problem with bathrooms. They are one person rooms, which tends to mean small. They are private, which tends to mean lack of  sun or air. People are naked in them, which tends to mean they are kept warm. They are wet, which tends to mean perfect for things like mould that like a warm, moist, enclosed, unventilated, dark environment.
It's a basic permaculture notion that you cannot empty an niche.  Where there is a niche, a lifeform will live in it, and aything you do to try to kill that lifeform will harm humans too, and all the other creatures that live in all the places where water goes after it leaves the bathroom. Once upon a time there was a lot of "all the places" and our puny measuring capacity meant we could pretend the killing stuff disappeared.  Nowadays the accumulated total of several generations of bathroom cleaning is showing up in male fertility rates and antibiotic resistant bacteria and fish full of microbeads.
Triclosan, phthalates, butoxythanol, microbeads – there are some really nasty chemicals in bathroom cleaning products.  Homemade lemon oil cleaning vinegar has been my go to alternative, but in a bathroom vs cleaning vinegar match-up, the cleaning vinegar needs to have frequency on its side.  Not fun.
My partner tells me, sometimes with admiration, sometimes with frustration, that I am the stubbornest person.  For all this time I've refused to settle on the matter of bathrooms.  But hey, it's worth it.
Our new bathroom has a hugely efficient, smokeless rocket stove that heats a bathful of water with just a big vase full of eucalypt sticks, picked up anyway to reduce fire hazard.  The chimney leads under the bath to keep it warm for as long as you like. There are little candle crannies in the rocks all around and a view of the stars.
The shower has hot water from the slow combustion stove boosted solar hot water system. The basin is a really old cast iron one with "patina" that matches the old mirror rescued from the dump.  The copper plumbing is all exposed in a kind of steampunk style that bemused the plumber who connected it all. The drain leads out to another bathtub filled with gravel and water plants to filter it, and thence to a clump of bananas.
The room has an alsynite roof that lets light through to give photosynthesising lifeforms an advantage over mould and fungus forms, and means I can fill it with hanging baskets of ferns and orchids and pots of figs and palms.  It has a floor of smooth pebbles in a grid mesh over sand and gravel, which means drips just soak through and I can plant the edges with elephant ears and lillies.  It has rock gabion walls to various heights on three sides – waist height around the bath for a view of a garden in the daytime and the stars at night, but head height round the shower, with a gap to the roof to allow for ventilation and tall, dense native ginger plants around the outside for privacy and breeze protection.  There's a passionfruit vine too that in time will cover the outside of the gabion wire. The forth side is a full height timber wall to the house with hooks for towels and some lovely old art-deco light fittings we found at the dump years ago, retrofitted to 12 volt.
I shall write another post about the rocket stove construction, because that was a mission of research and trials and invention and building and rebuilding by my partner Lewie worth a post to itself.
Worth the wait.