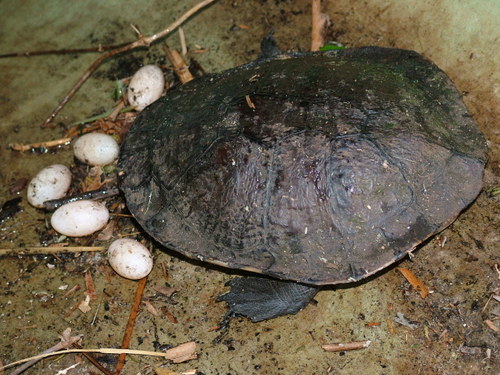 We have a star bath.  It's a heavy cast iron bath in a very unfashionable shade of green with a fireplace under it.  It sits out in the open with a clear view of the wide starry sky, and on cold winters nights we fill it up and light a fire under it.  A glass of wine, a candle, a hot bath that stays hot for as long as you like and a zillion stars.
It does't get used over summer and fills up with leaves and rain, so it's always a bit of a mission at the beginning of winter to clean out the bath.  Today we emptied it, pulled out a big pile of leaves, and there she was.  I don't know how this turtle found her way to our bath.  We're a bit of a distance  in turtle miles from the creek, and it's all uphill.  It felt quite mean to disillusion her – she must have thought she was the smartest turtle in the country to find such a good place to settle down and start a family.
A knowledgeable friend says they take 80 days to hatch and the mother just leaves them to it. She pulled her head in and refused to discuss the matter. So we relocated the eggs into a pile of leaves in a tub with a bit of water in my shadehouse, and the mother headed off at turtle pace.  And the stars were amazing tonight.