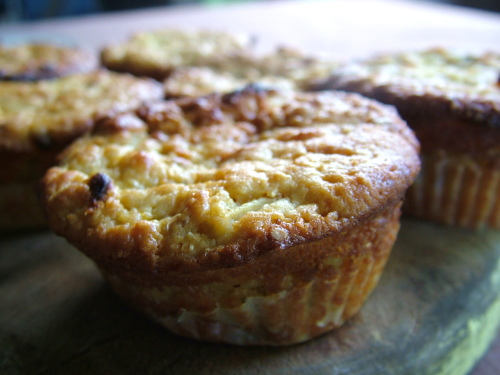 This recipe was my son's all-time favourite lunch box  baking for all of his high school years.  Unfortunately for him, there is only a small window of opportunity when both apples and passionfruit are in season.  But this is it! The first of the new season Granny Smith apples are just starting to become available here in northern NSW, and there are still a few weeks left in the summer passionfruit season.
This is the fourth in my "Muesli Bar Challenge" series.  So far I have three from three, but last week's Choc Chip Cookies are the one to beat!  The challenge is a lunchbox baking recipe, that is fast and easy, healthy, ethical, and that my school age reviewers actually prefer to the junk food marketed as "muesli bars".
The Recipe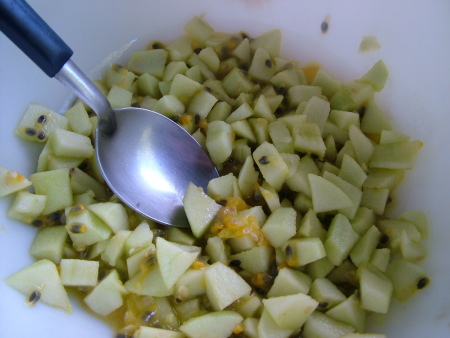 Quantities are a bit difficult to specify for this recipe, because apples come in lots of sizes, and passionfruit are variably juicy.  You are aiming for a muffin-type batter, which is not quite as thick as a standard cake batter, sort of between a pikelet and a cake batter, and not over-mixed.  The apple needs to be diced fairly small or they tend to break up.  The recipe is pretty forgiving though.
Into a bowl mix (in more or less this order):
1 large or 2 small peeled and finely diced green apples (about a cup of diced apple)
Pulp from 5 passionfruit
2 good desertspoons of plain, low fat yoghurt
2 good desertspoons of butter, melted
¼ cup milk
2 good desertspoons of brown sugar
1 beaten egg
Pinch cinnamon and a small pinch of cloves (careful – it's easy to overdo it with cloves)
Enough wholemeal SR flour to make a thickish pancake batter – about 2/3 of a cup full.
Mix just enough to combine,  and spoon into greased muffin tins.  A small circle of greaseproof paper in the bottom of each tin helps the muffins come out easily.
Bake in a moderate oven for 30 minutes or so, until a skewer comes out clean.
Makes 7 medium muffins (unless Casey finds them as they come out of the oven).
[relatedPosts]