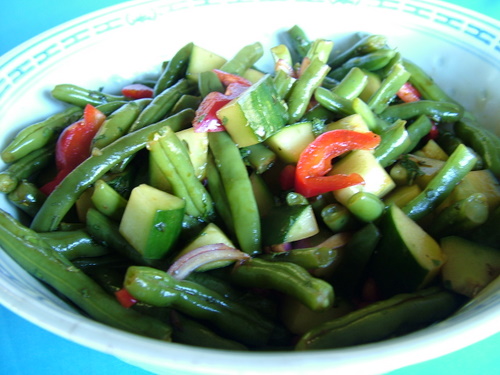 After floods followed by heat wave, my garden has practically no leafy greens in it.  The parsley and celery keeled over in the wet – they hate waterlogged roots and although my drainage is pretty good, it wasn't up to 150mm of rain in a day.  The lettuces and rocket keeled over in the heat wave, not up to several days in a row over 40º.
But that's ok.  Summer salads need more crunch and cool than leaf-based salads anyway. This is one of my favourite summer salads, great with anything on a barbeque.
The Recipe:
I like snake beans best for this salad, but french beans work too.  Blanch beans by cooking for just a couple of minutes in boiling water, then cooling straight away in cold water, so they are still crunchy.
Beans are the stars and it is best not to over-elaborate: some diced cucumber and sliced capsicum and red onion go well,  but leave out tomatoes or leafy greens.
Toss through the dressing and it's done.
Dressing:
1 dessertspoon olive oil
1 dessertspoon  lime cordial
1 dessertspoon white vinegar
1 teaspoon fish sauce
1 teaspoon soy sauce
few drops sesame oil
1 tablespoon chopped fresh herbs – mint, vietnamese mint and culantro or coriander are my first choices, but you could also include lemon, lime or Thai basil.
[relatedPosts]