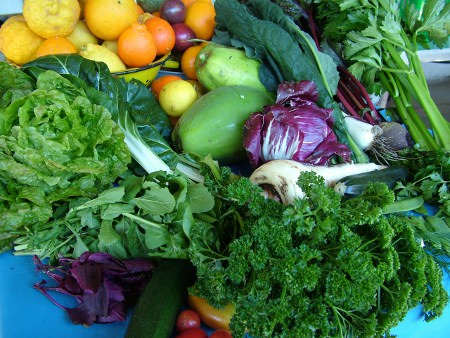 So much is just on the cusp of changing at the moment.  My strawberries are all flowering and before the end of the month I am likely to have berries.  The pawpaws are full size and the first of them just starting to get some colour but realistically it will be next month before they are really good. I'm picking tamarillos.  The mulberry tree is about to burst into leaf and fruit.
I'm also picking the first of the snow peas and peas, and I would be picking broccoli and cauliflowers by now if the bower birds hadn't massacred my first plantings of them.  Even the zucchini and squash (which shouldn't be in at all) seem to have decided that the glass is half-full of spring.
And yet so much is still the same.  Still the main fruit is citrus – lemons, late mandarins, navel oranges, tangelos, grapefruit the last of the limes.  Avocados are still in the peak of their season with several varieties all harvesting at once.  The leafy greens are loving the cool weather and haven't got enough of a whiff of spring yet to bolt to seed, so there's lots of lettuce, rocket,  parsley and salad greens, as well as silver beet, spinach, kale, radicchio, bok choi and cabbages for cooking.  The celery is gorgeous. Having it in the garden, I can pick it a stem at a time and we are eating it in salads, stews, soups, casseroles, and dipped in cottage cheese and chili jam as an after-work snack.
The root crops are also loving this weather, and also holding fire on bolting, so there are beetroot and parsnips and carrots, red onions, spring onions and leeks.
So that's the ingredients I'll be basing my cooking around this month, and I'm appreciating all of them because spring is just around the corner now.