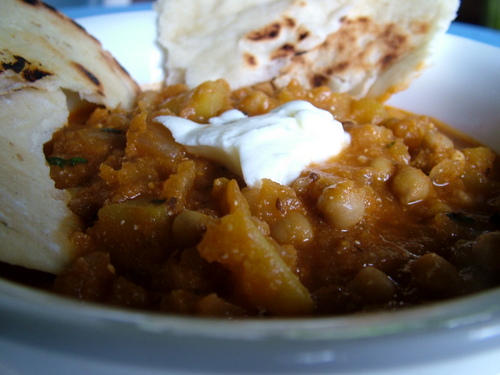 I'm not a very authentic cook.  I cook by feel, working from the base of what I have in the garden and what is in season rather than from a recipe.  With the result that I often have to do the research afterwards to find out what to call it!  I think this is a Balti style of curry, because it has the sweet spices – cinnamon and cardamom and garam masala – and not much of the hot spices – in a yoghurt creamy tomato base.
Anyway, whatever you call it, this is a mild and a bit sweet curry. If you keep the chili level down kids are likely to enjoy it.  It doesn't need rice to mellow it out like hot curries.  I like it best with garlic Naan bread to scoop it up.  It's a great dish for using the last of the season pumpkin for a cold, wet winter night dinner.
There's a little Tuesday Night Vego Challenge cheat in it: making it in half an hour requires cooked chickpeas (garbanzos).  You can use tinned ones, but that always seems like such a huge waste of energy to me – mining, smelting and manufacturing tins, cooking the peas, labelling, transporting, retailing – just so you can throw out the tin, which then becomes a problem to recycle or house in landfill.  So much easier and cheaper to buy (or grow your own) chickpeas and cook them.  If you soak them overnight, they cook in less than half an hour in a pressure cooker, or an hour and a half or so simmering. I often cook a batch of dried peas or beans of an evening, while I have the wood fired slow combustion stove going anyway to heat the house and the hot water, to use for dinner later in the week.
The Recipe:
Makes three adult serves.  Leftovers are even better the next day.
Soak ¹/3 cup chickpeas (garbanzos) overnight or for the day, then simmer or pressure cook them till they are quite soft.  This can take anything from 20 minutes to an hour and a half, depending on how old and dry your peas are, and whether you use a pressure cooker or not. It will yield about a cup of cooked peas.
In a big, heavy based pot, saute a chopped onion in a good swig of olive oil.
As it cooks, add (more or less in this order)
500 grams of diced pumpkin
½ teaspoon cumin seeds
the seeds from 2 cardamom pods
½ teaspoon (more or less to taste) chili powder
½ teaspoon garam masala
good grating of black pepper (or, if you have them, substitute nigella seeds)
1 teaspoon grated ginger
2 cloves garlic, chopped or crushed
2.5 cm (1 inch) of cinnamon stick
Keep stirring till the onions are softened and the spices fragrant and coating everything.  Then add
½ cup tomato passata
water – about 1 ½  cups but it will depend on how liquid your passata is, and what kind of pumpkin you use
pinch salt
the cup of cooked chickpeas
Simmer for about 10 minutes until the pumpkin is very soft.  Add a tablespoon of lemon juice and stir it vigorously, till the pumpkin semi-breaks-up. Then take the pot off the heat and stir in a couple of big spoonfuls of Greek yoghurt (low fat is fine).
Serve in bowls with a dollop of yoghurt and a sprinkle of chopped coriander if you like as garnish, and naan bread to scoop with.
[relatedPosts]