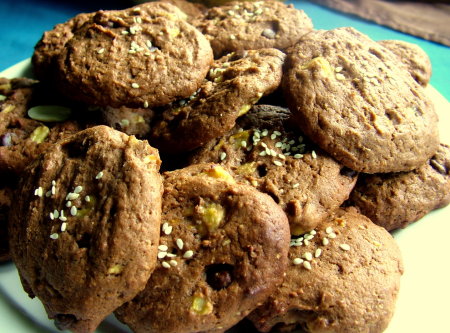 Bananas are in season, and although the turkeys are getting most of mine, I thought I would feature a banana based lunch box baking recipe. These are called "Long Live Elvis Biscuits". They're based on the Elvis-inspired taste sensation combination of bananas and peanut butter. But I'm going for a much longer-lived Elvis!
Bananas are super healthy, with good levels of potassium, fibre, and low GI carbohydrate. Nut butters are high protein, high fibre, and although they have lots of calories, their fat is unsaturated and they have a lot of nutrients, including vitamin E, folic acid, calcium, zinc, antioxidants, and pro-biotics. I made this batch half with peanut butter and half with tahini, (so my reviewers can tell you which they prefer), but you could also go for macadamia nut butter.
The recipe makes about 24 cookies so the sugar works out at about half a teaspoon full per biscuit. And a small amount of chocolate is rich in antioxidants and actually good for you! The Ethical Consumer Guide is a good way to check for free trade brands of Australian chocolate. So though they look (and taste) very decadent, they actually fit the rules of the challenge – which are that the challenger must be within the Witches Kitchen definition of healthy and ethical, and the school age reviewers (who range from Year 1 to Year 11) must rate it preferable to the junk food marketed as "muesli bars". Oh, and it has to be super easy.
Long Live Elvis Biscuits
Makes about 24.
Blend together 2 small ripe bananas, four good desertspoons of peanut butter or tahini or macadamia paste, a good desertspoon of butter, a small teaspoon of vanilla essence, and a scant half cup of brown sugar.
Mix a cup of wholemeal plain flour with 2 desertspoons of cocoa powder, half a teaspoon of baking soda and a pinch of salt. Stir into the banana mix.
Finely dice another banana and fold it gently into the mix along with a good desertspoon of choc chips.
You should end up with a mix that is sticky but that it is possible to roll between your palms into balls a bit smaller than a ping pong ball. Place the balls on a greased baking tray giving them some room to expand and flatten them with a fork.
Bake in a medium oven for around 30 minutes. You will have to watch them during the last bit of the cooking time as the brown colour makes it a bit difficult to pick when they are cooked.