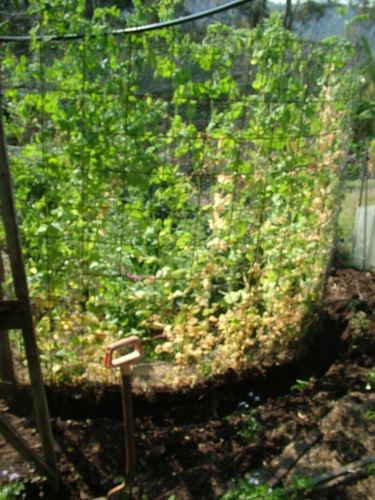 The most labour intensive work in my garden, for quite a few years now, is fencing.  Often I feel like those Greek fishermen you see in movies who spend most of their time mending nets.  Bandicoots are my big problem, and I've not yet found the perfect solution.
A proper permaculture solution would be a) get rid of the earthworms, so the bandicoots would go elsewhere looking for food, or b) to eat bandicoots. But besides the fact that they're protected wildlife, they look a bit too much like big rats for me.  If I could imagine them a big guinea pigs and us as South Americans?  Nope.
Besides, I don't imagine there would be enough meat on them to be worth the effort.  Killing and preparing meat is not easy – ethically, psychologically, physically – whether you raise animals or hunt them in the wild.  When you do it for yourself and make the connection between the real cost and the real value it changes the economics.
Not that I support vegetarianism as the solution to world food production ethics.  As soon as you start to seriously try to produce enough to feed yourself, you realise that plants and animals are part of a single ecosystem.  If you take animals out of the production loop, the substitutes are pretty unacceptable.  If you don't have animal manure as a nitrogen source, you're down to using ammonia produced by highly compressing and then super heating natural gas – a process that uses scarce unrenewables and produces lots of greenhouse gases.  If you don't have bird manures as a source of phosphorus, you're down to using ammoniated phosphates or superphosphate, made from scarce and depleting phosphate reserves.  It's quite possible that running out of available phosphorus will get us before even global warming does.  If you don't have animal protein sources, you're down to eating a lot of broadacre legume crops, and doing that in a way that preserves animal habitats and avoids environmental poisons is hard too.
But given the personal and work cost of meat, you would want the result to be very appetising, and I can't see bandicoots ever making the grade, so I'm down to trying to fence them out.  Buried sparrow wire lasts for around 5 to 8 years, but then it rusts along the ground line and they manage to break through.  In a single night they can make a garden bed look like Flanders fields.  Astounding the amount of effort they put into it.
I temporarily patched this fence to save the crops inside, but I know the patch won't last.  So it's trench digging time.  Lucky the ground is moist and soft, but I do wish I could think of a method that didn't involve constant fence mending.
[relatedPosts]