The bean jars are filling up nicely, but with the wet weather lately, today's pick was this much for us: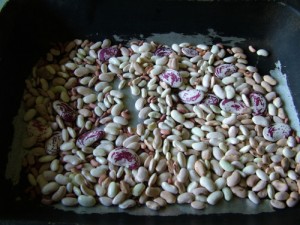 And this much for the chooks:
I love it that they aren't wasted.  Along with some greens and house scraps, this will feed my chooks for the week. Though they are very spoiled having me shell them for them! Mostly I just pull the whole vines down at the end of their life, and either throw them holus bolus to the chooks, or just move the chooks onto the bed to clean it up ready for the next planting.  They can shell their own.
Beans are so productive. Green beans all summer and dried beans all year, all from just a few dozen seeds planted each month in spring and summer. I have any number of bean recipes – they're a staple in our household – a good, filling, low GI, high protein, food that can carry a lot of flavours.
And the high protein chook food is a bonus.
[relatedPosts]