I've been at Bentley.  Witches Kitchen has been neglected, partly because I've been sleeping in the back of the car and waking up at dawn, to an odd combination of celebratory empowerment and the prospect of fronting riot police. But also because I want to write about it but I don't know where to start.
Coal seam gas, tight sands gas, unconventional gas, "natural gas" – by its many Orwellian double-speak names designed to confuse  – whatever you call it, this kind of mining is so very much a part of the stories  of rural Australia today that it is difficult to truly appreciate how "under the radar" it is for many people.  Coal mining has its own, marginally more familiar, issues.  Gas mining has only very recently exploded onto the scene. Bad as coal mining is for greenhouse gas production and destruction of agricultural communities, gas mining is orders of magnitude worse.  Multiply by a thousand times whatever reservations you have about expanding the coal industry, and you're in the ballpark.
The system is broken.  Absolutely buggered. Two bit tin-pot companies with absentee directors and no money are allowed to take out exploration licenses over vast areas of land that they don't own, and have no sense of responsibility for.  Doesn't matter if it is prime agricultural or watershed or rural residential or ecologically significant or if the owner disagrees.  They can hang onto the licenses for little cost or effort, just as a ticket in a lottery that there is something valuable underneath.  They can forcibly enter and dig exploration wells, protected by riot police that you as taxpayers pay for if necessary.  If they find nothing, little lost. If they make a mess they can fold and disappear. If they find gas, they've hit a jackpot.
This is gas that is hard to get out.  It's not sitting in pockets. It's soaked through sandstone or shale or dirty coal seams.  The method is to drill down, then horizontally for kilometres, then hydrollically fracture the rock allowing the gas to seep into the drilled channel.  The fracturing is done with lots of water and some very toxic chemicals, but they are then mixed with underground gases and minerals like arsenic and uranium that are "natural" but toxic, and the methane they are after, and the whole horrible lot is transported to the surface in concrete pipes that inevitably leak sooner or later and often sooner.  Through water tables and and impermeable rocks and springs, destroying the underground integrity of water flows and polluting everything it touches.
There's not a huge lot of it per well, so there needs to be a lot – a very lot – of wells to make it all worthwhile.  Lots of water, holding ponds of the toxic "produced water", underground horizontal drill channels in every direction, above ground pipelines.  This is a real, Google Earth picture of a gasfield in Queensland, stretching all the way between the towns of Tara and Chinchilla.  You get the idea?  We're not talking about one little well producing lots of wealth.  We're talking about low return, high risk, mega-industrial complexes.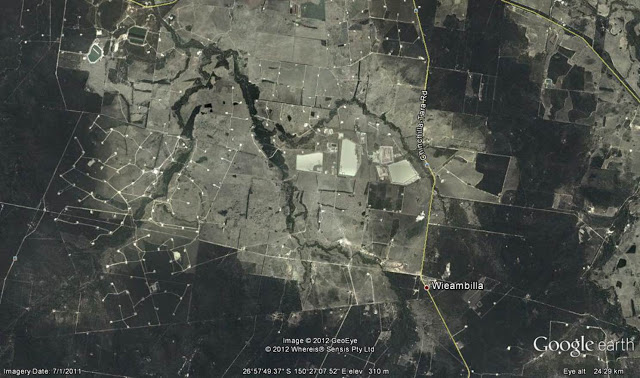 Neither do the wells produce for very long.  As you can imagine, fracturing kilometres of rock well underground and waiting for gas to seep out is about as efficient as the fishing method of chucking dynamite into a dam.  Lots of the gas, called "fugitive emissions", escapes into the atmosphere as a potent greenhouse gas much worse than CO2, or into water to come out of taps as flammable water (I kid you not).    New York Times is reporting thousands of abandonned wells. Once they are sucked dry, the company that drilled them shifts profits to a parent campany, folds, and walks away, leaving farmland and water resources un-restorable.
And for all this, do we get jobs? cheaper gas? wealth?  No, none of them.  We get a port dredged out of the Barrier Reef with a pipline all the way to it, so the gas can be exported to markets that will pay three times the price of gas on the Australian market. Your gas bill will treble, and it has nothing to do with gas shortages, rather the opening up of a more lucrative export market at the expense of our Barrier Reef.  A three-fold hike in gas prices will cost us thousands of small businesses and hundreds of thousands of jobs in industries that depend on gas.  Food prices will skyrocket as water shortages and destroyed farmland and farming communities bites.
There's no gas shortage.  There's enough of this stuff worldwide to fry the earth several times over, and it's in the hands of people greedy enough to do it.
Coal Seam Gas News or Lock the Gate are good places to get informed.  If you are in Northern NSW, at Gasfield Free Northern Rivers you can register for alerts.  Somebody at the blockade last week said this is a Woodstock moment.  They were using it in a different context, but I have  I have a feeling that it is.  This one will win, and I hope I'll be able to say, I was there.
[relatedPosts]