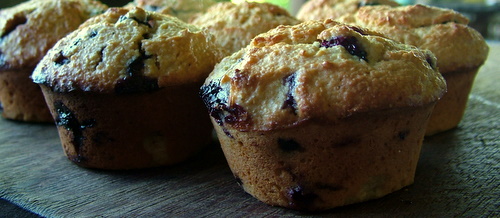 Blueberries are right in season up here in northern NSW, and with three major ingredients (blueberries, oats and yoghurt) in my superfoods list, this week's Muesli Bar Challenge recipe blitzes the healthy criteria.  It is also really easy – literally 5 minutes to make then 25 to bake.
Oat bran is specially healthy, loaded with the kind of soluble fibre that stablises blood sugar,  iron that helps blood carry enough oxygen, protein, and Vitamins A and C.  Blueberries are another of those dark coloured fruit that, like mulberries, contain phytonutrients that are protective against a whole range of chronic conditions caused by free radical damage, including cancer, inflammation, diabetes, and infections. And yoghurt has the calcium benefits of dairy foods along with probiotic bacteria that would be very good for you except that they probably don't survive the baking!
The Recipe
Turn your oven on to heat up.  Grease an 8 hole muffin tray.
In a bowl, mix together:
1 cup of wholemeal self-raising flour
¾ cup of oat bran
1 teaspoon of baking powder
In a food processor, blitz together:
2 eggs
4 dessertspoons of raw sugar
1 dessertspoon of lemon juice
¾ cup plain low fat yoghurt
2 dessertspoons of macadamia or other light flavoured oil
Fold the wet mix into the dry mix, then fold in ¾ cup of blueberries.
Bake in a medium oven for around 25 minutes until the top is golden, they bounce back to the touch, and a skewer comes out clean.
[relatedPosts]