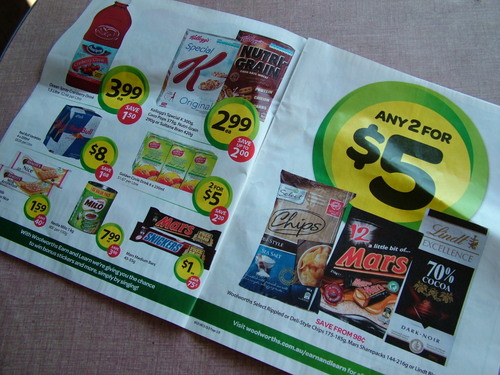 The glossy paper and coloured dyes in the supermarket specials brochure insert in the newspaper makes it hopeless for fire lighting. And no good for mulch or worms either. I took it out to put in the recycling – I hope they can do something with it – and got distracted into browsing it while waiting for the fire to catch. And then intrigued. And then on a quest, to see if I could find anything in it I would buy.
Not Coke or Coke Zero or Oreos with an Olympic logo or Cadbury chocolate (owned by Kraft, and uses GM ingredients, and life is way to short for anything other than very good dark chocolate). Not Sprite or Ocean Spray Cranberry drink which is only one quarter cranberry juice and has a stunning 8 teaspoons of sugar per cup (250ml)!! And they try to tell you it's healthy!! (Indignant huffing).
Not Special K or Nutrigrain which has the dubious honour of  taking out the Parent's Jury Award for Smoke and Mirrors advertising three years in a row.  Not poppers of Tropical Punch fruit drink, which has another stunning six teaspoons of sugar per popper. (One of my absolute pet hates, poppers). Not packaged biscuits with  transfats or Mars bars or potato chips.  Definitely not Uncle Tobys yoghurt topped muesli bars which are owned by Nestlé and have way too much sugar too.
Really really not microwave soup or chicken noodles in plastic containers that is so bad even bacteria won't eat it.
Not canned tuna – I've stopped buying canned tuna altogether. Several species of tuna are critically endangered and likely to become extinct, and although skipjack, the species most often canned, is not itself listed as endangered it is being fished beyond a sustainable level and the methods used to catch it catch more vulnerable species as well.  I buy canned salmon, which is listed as sustainable for now.
Not canned tomatoes any more.  I used to, occasionally, when I ran out of home bottled tomatoes, but the BPA in can linings is nasty.  Not rice from the Riverina – I buy local clear conscience rice. I really don't want to be any part of the killing of the Murray Darling basin.  Not Spam – ughh! Nor grated dried parmesan in a container – ughh too!  Not pasta – I've discovered how very easy it is to make pasta, and I can use real eggs in my home-made.
Does anyone buy foaming shower gel? Why? Even worse (another of my blood boil products) are those antiseptic hand washes. Basic science: bacteria breed very very fast, they are very tiny, and there are lots of them. If you only kill 99%, the other 1% will be the really vicious ones, the bikie gangs of the bacteria world.  And within, oh, about ten minutes, they will have bred up to take up the niche again.  I make soap once a year. It is gorgeous and luxurious enough to make good presents, and enough to last me the whole year. If I make it enough ahead to let it age, it goes nice and hard and dense and lasts forever. The last of the bar goes into a pump bottle with water and dissolves into a liquid gel that is used for hand washing. Since I just keep topping it up with scraps of my beautiful, macadamia oil soap and water, the same bottle has been going for years.
Not krill oil. It's good that there is actually some good scientific monitoring of krill fisheries going on, so it's probably ethical.  Just seems to me there are much tastier ways to spend money on Omega 3's.  Definitely not ani-wrinkle cream, although it does remind me that since it's deep in avocado season, and we have some over-ripe ones,  it might be nice this weekend to make a face mask this weekend.  Not Lemsip hot lemon drink – now why on earth would anyone buy that while lemons are at peak of season?  Not cat food. I like individual cats, but I really do think keeping carnivore pets is an ethical issue when so much of the world's wild animals, specially fish (directly and indirectly) goes to feeding them.
Not frozen beef pies or chicken bites or lasagna or potato fries or fake cheesecake with their transfats. Yuk. Not bacon or ham or prosciutto with their nitrosamines (though someone told me recently that at Lismore Farmer's Market someone is selling real cured meat without nitrites.) Definitely not flavoured yoghurt, some of which have as much sugar as the "fruit" drinks – up to 7 teaspoons per little tub!!
Not cherries from USA or cashews from Vietnam or oranges from South Australia or even silverbeet from Queensland.  (Why would you transport silver beet, when this is about as perfect a climate and season as you will get for it?) Not bread – I have actually not bought bread at all since I became a sourdough convert. Definitely not muffins when I can make them with real fruit, real eggs, real butter, real flour. Not hommus at $3 a 200 gm tub, when I can buy organic dried chick peas for less than $7 a kilo, and organic tahini for about $16 a kilo, which works out to about 50c for a tub.
It's a bit of a rant, I know, and I usually try to steer clear of rants in here.  But really, what is wrong with our food culture?  That we don't collectively all see through the shiny paper and bright (non-biodegradable) colours to the absolute junk they're selling? There's nothing, nada, not a thing in there I'd buy.  So who buys it?