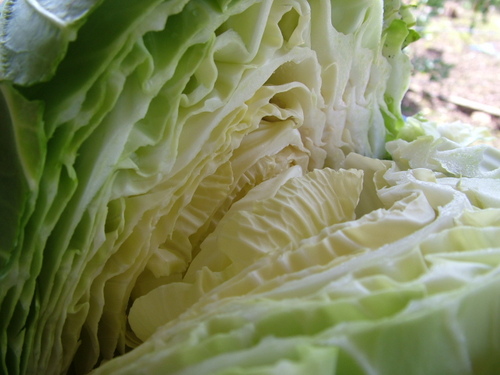 Some years I don't bother with European cabbage.  My winters are short.  The cabbage moths are active right into autumn, and back by mid-Spring. Cabbages take up a surprising amount of room.  You harvest them once (unlike broccoli or silver beet) and then they're gone.  Chinese cabbages are easier and fill the same slot, sort of.
And then I have a cabbage year and remember why I love them and vow I will plant cabbages every year.
We've been eating pink coleslaw, with homemade mayonnaise, shredded cabbage, grated carrots and beetroot and finely diced red onion.  We've been eating shredded cabbage sautèed very quickly in half butter, half olive oil till it gets little crispy brown bits. We've been eating mini vego Chico Rolls.  We've been eating minestrone. We've been eating Okonomiyaki – Japanese cabbage pancakes.  We've been eating soft boiled eggs chopped up in a bowl with diced cabbage and a little mayo for breakfast.  I'm even thinking I might make sauerkraut this year.
Remind me next autumn that cabbages are so worth it.