One has to love a bloke who can bake, especially when he's your son!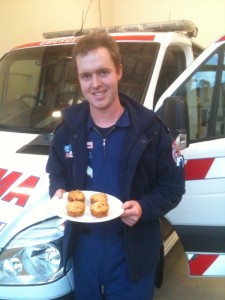 Hola mama,
I'm pretty sure everything is about right on this recipe. I made it by feel but I tried to measure stuff, wasn't entirely successful with the measuring but the muffins are good.
Makes about 12
1 ¾ cups wholemeal SR Flour
1 teaspoon baking powder
1/4 teaspoon nutmeg
1 cup mixed veg (I used roast pumpkin chopped in small cubes, finely chopped zucchini and some sundried tomatoes)
100 g Feta
¼ cup Pine nuts
1 egg, beaten
¾ cup milk
¼ cup butter, melted
Method
1. Pre-heat the oven to 200°C .
2. Mix the flour, baking powder and nutmeg in a bowl.
3. Add the veg, feta and pine nuts and mix well.
4. In another bowl combine the egg, milk and butter and mix this well.
5. Add the egg mix to the flour mix all at once. Using a fork, stir and fold the ingredients together only until it is all moist. Do not over mix, this is the main secret of good muffins!
6. Spoon the mixture into muffin tins, filling them about two-thirds full and bake for approximately 20 -25 minutes. They are ready when golden brown and a skewer comes out clean.
7. Place muffins on a wire rack to cool. These are best warm.