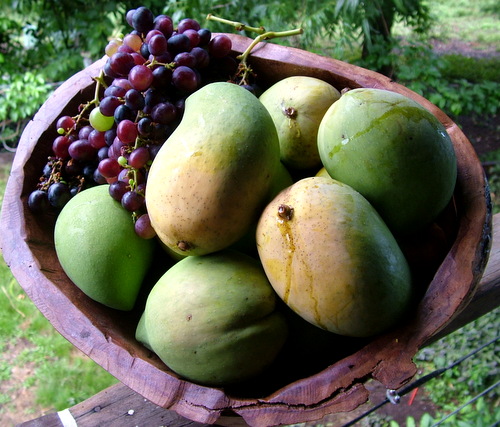 Back in midwinter, I posted a picture of my new, very beautiful fruit bowl – a Yule gift – filled with winter fruit – oranges, mandarins, lemons, limes, grapefruit.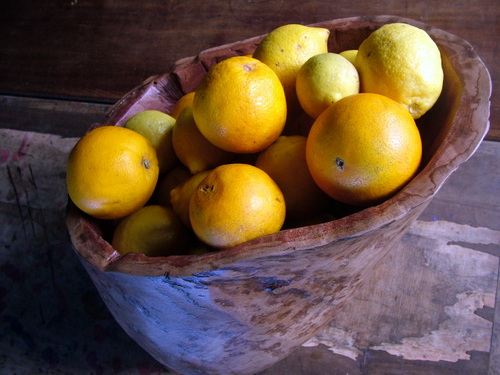 Then in Spring I posted a picture of it filled with spring fruit – pawpaws and strawberries in my part of the world.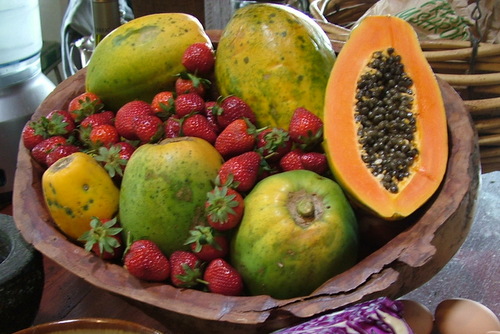 And now it is full of mangoes and grapes. The first of the mangoes is j-u-st getting ripe. I admit we've cut a few a bit too early, impatience winning out. And still, really not quite there.  Another week or so and it will be properly mango season. I have some jars of green mangoes salted on the bench and tomorrow I'll make green mango pickle with them, and in a few weeks when the stringier, later mangoes get ripe I'll make some mango and tomato chutney. But most will be mango smoothies and mangoes in salads and mango oatcakes for breakfast and lots just eaten as they are.
The grapes too are just coming on, maybe enough for a small batch of mosto cotto this year, but most will just be eaten as they are.  Always something to fill the bowl.