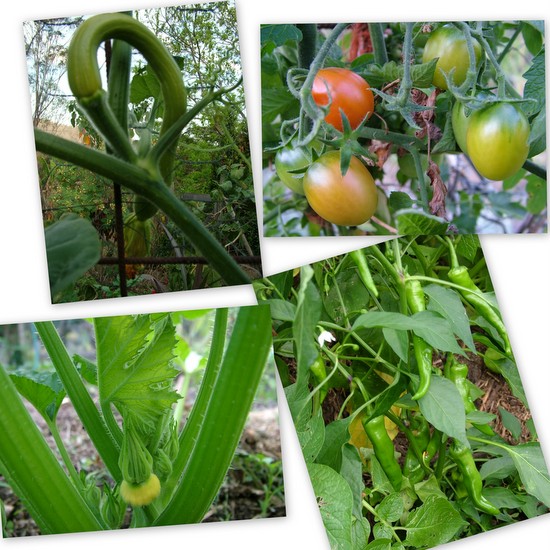 The first of the season trombochino, just picked and went into a Green Green Polenta.  The first of the season cherry tomatoes, just picked and into soft boiled egg and tomato on toast for breakfast. The first of the season capsicums – these ones are Hungarian Wax.  I've picked the first of them green to go in a breakfast frittata, but they will get sweeter as they mature to yellow.  And the first of the season button squash, not ready yet, but it will only be a few days.
It's very exciting. The season is changing, as they constantly do, but this spring transformation is always one I look forward to. I still have strawberries and mulberries here, and the first of the blueberries very soon. We've been eating paw paws regularly for a few weeks now, and still a few weeks to go.
I'm still picking the last of  the broccoli, snow peas, peas, silver beet, kale, celery, broad beans and cabbages of various kinds.  There's heaps of lettuces of several kinds,  lots of rocket, parsley, coriander, and dill, and I've just harvested all the  mustard seed for making seeded mustard, and for adding to pickles and curries.  Carrots and  leeks and spring onions and beets are all still in season, along with ginger and turmeric.  And though the wallabies (again!) got most of my asparagus, there's been enough left for several meals.
But all the winter vegies are now giving way to the summer ones – zucchini  and trombochino ,beans,  tomatoes, capsicums, and the cucumbers aren't too far off. And I keep sneaking a look under the compost at the  new season potatoes.  They're not quite ready to start bandicooting yet, but it's not long, and they are such a treat it's something to look forward to.
I am never very inspired to freeze or bottle fruit or vegetables. But the end of the season for each one, I am always looking forward too much to the next one.
[relatedPosts]