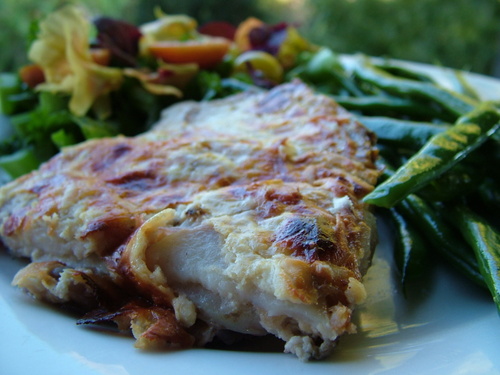 Right now I am in a state of being where the rules of the  Tuesday Night Vego Challenge apply every day. I work three part-time jobs, and every so often, all three converge into a perfect storm of busy, where I leave home at 7 am and get home at 7pm, starving. No time for shopping, no creativity for interesting cooking, no patience for lasting more than half an hour.  But  when I'm this busy, I really don't want to eat junk food – I can't afford to get sick or run down.
My wonderful partner has been cooking dinner most times, and his forte is slow cooker soups and stews.  But when I cook, it is recipes like this – the last of my potato harvest recipes – comfort food that needs no thinking.
The Recipe:
Makes 4 serves.
Turn the oven on to medium hot to heat up.
If you have a fry pan that can go in the oven, use that as it will save transferring the potato to an ovenproof dish and thus save washing up!
Wash 350 gm new potatoes and slice them, skin on, very thin.
Finely slice 2 red onions.
Fry the potatoes and the onions in a little olive oil for just a few minutes, just enough to get them coated in oil, hot all the way through and just starting to soften.
While they are cooking, blend together
250 gm low fat cottage cheese
½ cup vegetable stock
1 egg
black pepper
Pour over the potato and onion mix.
Top with grated cheddar cheese.
Bake for around 20 minutes till the top is browned and the potatoes are soft.
Serve with steamed vegetables and/or salad.
[relatedPosts]