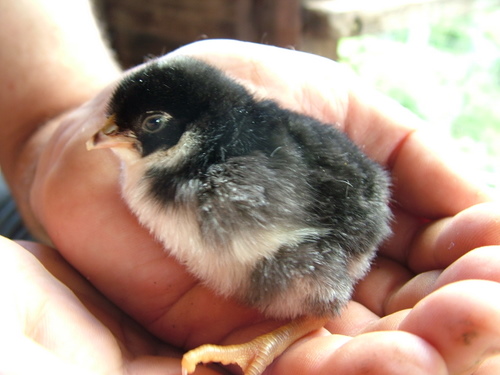 Super cute, eh. We had all but given up on raising chickens – just too vulnerable to our rural suite of things looking for a chicken dinner.  But the geese are proving to be pretty good guard-geese.  So when Jenny Craig decided to go clucky, we let her sit.  This morning she had hatched four of the eggs and was still sitting on another three, so we shall see how many there are by this afternoon.
If they survive, the roosters will become poule au pot – my favourite way to cook a chook.  The  hens will join my crew of garden workers come layers, rotating around my fenced and netted garden beds, clearing, fertilizing and doing pest control for me.
A side benefit to intensively fenced garden beds is ready made chook runs.  I can move the chooks around them to break the breeding cycle of any parasites or diseases. At the same time they clear spent plants and weeds, slugs, snails, grasshoppers, and bugs.  I throw them household scraps, weeds, azolla, mulch, cow and horse manure, and a bit of shell grit every so often, and they scratch it up into a lovely layer of sheet compost.  The new roost is working well so far for adult chooks big enough to fly up, but it will be a challenge to keep chickens safe.  Here's hoping this guy doesn't become goshawk dinner.
[relatedPosts]