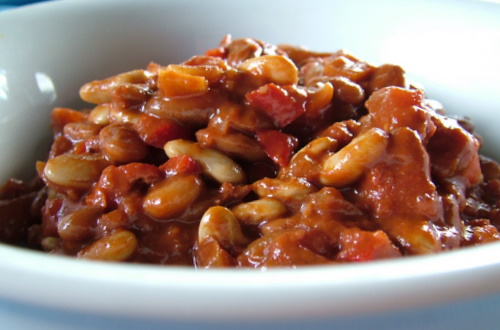 My partner is a chili fiend.  He would eat chili beans for every meal if he could. We compromise. But I do make chili beans quite a lot. He's a big bloke and he needs a lot of fuel. But, like me, he alternates between being very physically active and spending too much time doing sitting work. So the perfect fuel is very filling but low calorie, low GI, high protein and high nutrient value.  Pretty much the kind of food that is good for all of us.
This time of year he's in luck. I have chilis and more chilis in the garden, and plenty of mature beans. I dry and store some for winter – they're a great easy-store crop. But fresh mature beans are one of those foods that only gardeners get to really appreciate. Commercially, you only have a choice between green beans or dried beans.
If you don't have mature beans in the garden, you can use dried beans for this. You just need to think of it a half day in advance to allow for soaking time. And if you use mild chilis, it's like a home-made healthy version of baked beans.
The Recipe
Makes 4 decent sized serves. It's good on its own, or with brown rice or some other grain dish to make a complete protein. Makes great leftovers.
You need 2 cups of cooked beans for this recipe.  Mature beans, shelled, yield about the same cooked as raw, so you need 2 cups of fresh shelled beans. Dried beans swell to about double their size, so one cup of dried beans, soaked overnight or for the day.
All beans, fresh or dried, need soaking or boiling before cooking, and the first batch of water thrown away. They have a kind of complex, indigestible sugar called  oligosaccharide in their skin. It's not dangerous, just fart producing, and it can give some people uncomfortable wind. Oligosaccharides are only in the skin and they are water soluble, so soaking gets rid of them.  With my fresh beans, I bring them to the boil, drain, replace the water, then pressure cook for 8 to 10 minutes. With dried beans, I just throw out the soaking water and pressure cook for around half an hour or simmer for an hour or so.
In a large pot, in a little olive oil, sauté
1 diced onion
1 teaspoon of cumin
1 teaspoon of mustard seeds
Cook till the onion is soft and the seeds are popping, then add
1 diced capsicum
3 cloves of garlic
3 chilis (or to taste, depending on how hot your chilis are and how hot you like it, but beans mellow chili more than you would think)
Cook for a few minutes more, then add
2 cups of cooked beans
salt
600 grams of diced tomatoes, or a jar of passata
1 teaspoon of treacle
2 teaspoons of cocoa powder
The cocoa powder is the secret ingredient. It adds a bit of richness and balances up the sweet and acid. It's not so weird – Mexicans use cocoa in savory dishes a lot.
You may need to add a little water, depending on your tomatoes. Simmer for at least 15 minutes and serve in a bowl on its own, or over rice, or in a tortilla.
Did you do the Tuesday Night Vego Challenge this week? Links welcome.
[relatedPosts]