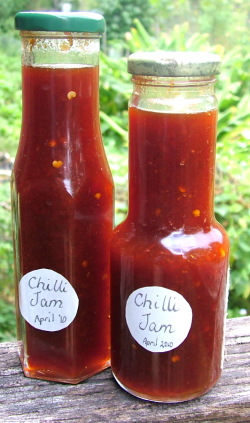 Chillies and lemons are both glut crops – if you have any, you have too many! For this recipe though, the challenge is that you only have too many of both at the very end of the chilli season and the very beginning of the lemon season.  It's a moment to pounce on.
The trick with making chilli jam is that chillies don't have enough pectin to set on their own. Commercial chilli sauce is thickened with gum, but this one uses lemon juice and pulp for its pectin, and also for its flavour. It makes a nice strong chilli jam (or sauce) with a hot-tart-sweet-salty balance. It's great with cheese on crackers, or with very herby salmon patties, or in salad dressings, or  indeed anywhere you are used to using sweet chilli sauce.
The Recipe
First, put your jars in a pressure cooker or a large pot of water on the stove to sterilize them by boiling for 10 minutes or pressure cooking for 5.
De-seed a big basket of chillies – half a kilo of de-seeded chillies will make about 3 medium jars of chilli jam. Hot chillies will (duh!) give you hot chilli jam – I like a mixture of hot and mild chillies, about half and half. Use gloves (or really remember not to rub your eyes for hours afterwards!)
For each half kilo (500 gm) of de-seeded chillies, add one cup water, one cup of vinegar, three quarters of a cup of lemon juice, a good dessertspoon of grated lemon rind, a marble-sized knob of fresh ginger, grated, two or three garlic cloves chopped fine, and a half teaspoon of salt. When you juice the lemons, remove the seeds then scrape the pulp out of the juicer as well – it has lots of pectin and will help your jam set.
Find your largest stainless steel or enamel pot – the jam has a risk of boiling over in too small a pot. Boil this mixture for 10 minutes or so, until the chillies soften, then blend the mixture. (Careful of splashes – it really hurts if it gets in your eyes!) For each cup of chilli blend, add a cup of sugar. (We're making jam here – it doesn't have to be healthy). I like the slight molasses-y flavour of raw sugar, but it makes a darker coloured jam.
Cook stirring occasionally until it reaches setting point – the point at which a teaspoonful on a cold plate sets jam-like. This will take around half an hour, depending on the pectin level in your lemons.  Bottle in your sterile bottles.