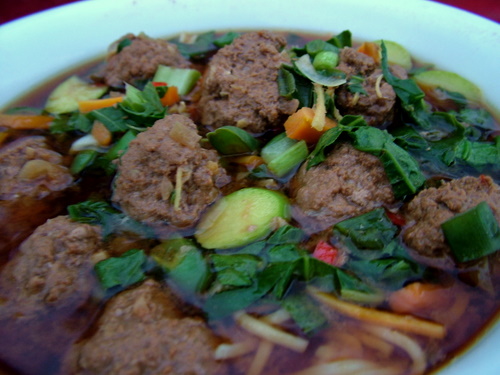 If you've visited here before, you will know my thoughts about kangaroo as the red meat of choice for Australians.  The recent controversy about live cattle exports has brought it to the front of my mind again.
I am comfortable with being a predator as a general concept.  There's an essay here, from a book by Lierre Keith, that captures the ethics of it so lucidly. But I am not at all comfortable with intensive farming of livestock, or abbatoirs.  I'd much prefer a wild animal hunted cleanly.  Australian beef and lamb mostly falls somewhere in the middle.  But then, when you add greenhouse gases, and soil conservation, and water management into the ethics equation, kangaroo comes out way ahead.
This has been one of our favourite winter meals lately – fast and easy, healthy, warm and tasty, cheap and ethical – all the boxes. The combination of hot soup, ginger, lightly cooked vegies and kangaroo meat feel just right for this time of year.
The Recipe
Serves 3 or 4 for dinner, 2 or 3 if you are very hungry.  Like many Asian recipes, it comes together really fast.
The Meatballs:
In the food processor:
300 grams kangaroo mince
1 onion
2 dessertspoons soy sauce
half a thumb sized piece of ginger
1 egg
2 dessertspoons cornflour (corn starch if you are in USA – but then if you are in USA, maybe venison is the comparable meat?)
salt and pepper
The Stock:
5 cups of stock, or 5 cups of water with a couple of dessertspoons of miso
half a thumb sized piece of ginger, julienned
1 chili chopped fine
Bring the stock to the boil, then add the meatballs.  Use wet hands to make small balls and drop them in one by one.  Cook 5 minutes from last meatball in.
The Noodles
While the meatballs are cooking, put some egg noodles on to cook in boiling water – more if you are active, less if you are keeping carbs down.
The Vegetables (all julienned):
Add to the meatballs in the stock:
2 spring onions
10-12 beans or snow peas (I'm still harvesting the last of the green beans)
2 carrots
3-4 leaves of chinese cabbage
Cook just a couple of minutes.  Don't overcook.
Seasoning at the end:
Put the noodles in bowls and ladle the meatball soup over top.  Taste and add seasonings to taste.  I like
a teaspoon honey
a little swig of soy sauce
a squeeze of lemon juice or vinegar
chopped coriander on top to serve
[relatedPosts]