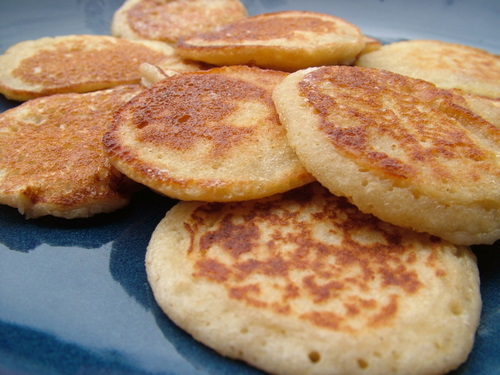 I get why people name their sourdough cultures. Navarone (son of Priscilla) is the new love of my life. I feed him, burp him, check him daily for signs of life. I take him on holiday with me to the beach and introduce him to all my family and friends! He's gorgeous. He even has that sweet baby smell.
As an offshoot of this affair, my new favourite breakfast is sourdough cottage cheese pikelets (or hotcakes if you are in USA). This crush has been going on for a while but I wanted to try them without sourdough before posting about them because I know not everybody can get hold of a culture.  This morning I tried making them without sourdough culture just to see how they worked out. And they were good – I don't think they were quite as good as Navarone's but then, maybe I'm biased!
So this is the recipe for Cottage Cheese Pikelets, with and without sourdough culture, though if you can get hold of a sourdough culture I highly recommend it. With its cottage cheese and eggs, this is a high protein, low GI breakfast that will get your metabolism going and keep you energetic and clear headed through to lunch time.
I made these for my sister's family and the kids ate them hot from the pan as fast as I could make them, with just a dribble of syrup. The recipe made a good breakfast for five of us.
(The Breakfast Cereal Challenge is my 2011 challenge – a year's worth of breakfast recipes that are quick and easy enough to be a real option for weekdays, and that are preferable, in nutrition, ethics, and taste,  to the overpackaged, overpriced, mostly empty packets of junk food marketed as "cereal" .)
The Recipe:
Separate three small or two large eggs
Beat the whites till they are stiff.  (This is so easy with an old fashioned eggbeater – takes literally 20 seconds)
Use a stick blender or food processor to blend the yolks with
1 cup wholemeal self raising flour
½ cup low fat cottage cheese
2 dessertspoons honey
1 cup sourdough starter

OR a scant ½ cup wholemeal self raising flour
mixed with ½ cup of plain low fat yoghurt
and a  dessertspoon of lemon juice
Fold in the whites. (It will make a pikelet batter that is a bit stiffer than a standard mix)
In a heavy pan, over not too high a heat, fry spoonfuls of mixture in a little butter till they are golden and set.
Serve hot from the pan, just as they are, or with a dribble of honey or syrup.

You Might Also Like: