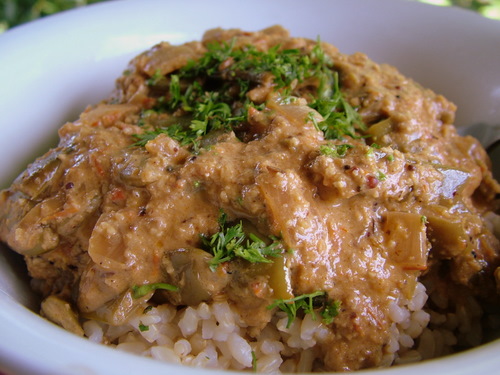 It's not as photogenic as it was delicious.  Green beans in a creamy, nut based mild curry sauce. I quite like creamy curries but most are based on coconut cream or real cream.  Both are a bit too high in saturated fats (and kilojoules) for everyday, mid-week eating.  Fresh coconuts are also well out of my "locavore" range, and canned coconut cream is oily and BPA is oil soluble.  All reasons why curries with coconut cream are eating out special occasion foods in my world.
Luckily for me, you can make korma style curries using nuts and yoghurt to make them creamy.  Traditionally it is cashew nuts, but macadamias are just coming into season here and my first pick is dry and ready to use.  Further south, almonds are also now in season. As well as loads of nutrients, nuts have monounsaturated, good fats, and there's good evidence that macas work as well as the "clinically proven to lower cholesterol" margarines.
The Recipe:
In a large pot, dry roast:
½ cup macadamia nuts, roughly chopped
1 teaspoon brown mustard seeds
1 teaspoon cumin seeds
1 teaspoon fennel seeds
Shake the pot to toast them evenly, and as soon as the seeds start popping, add
1 teaspoon garam masala
4 cloves of garlic
1 big teaspoon of grated fresh ginger
1 big teaspoon of crated fresh turmeric (or half a teaspoon turmeric powder)
1 to 3 fresh chilis, (depending on how hot your chilis are and how hot you like your curry) roughly chopped
Cook for a couple of minutes, then tip the lot into a blender or food processor.  Wash out the  pot with ½ cup water and add that to the blender.  Blend on high for a few minutes, till it is really smooth and creamy.
Meanwhile, add a little olive oil to the pot and saute one diced onion until translucent.
Top and tail and chop 300 grams of green beans, (my Blue Lake french beans work really well in this), add to the onions, and pour in the sauce from the blender.  Use another ½ cup of water to rinse out the blender and add it.
Simmer gently for around 20 minutes until the beans are tender. Taste and add salt to taste.
Take off the heat and stir in ½ cup of low fat Greek yoghurt and ½ cup chopped coriander.
Serve over rice with a little coriander to garnish.
[relatedPosts]