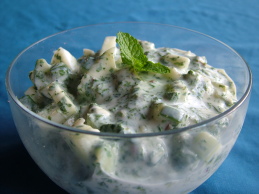 This is not so much a recipe as a reminder.  With cucumbers and mint both fully in season (going off in my garden) we have been eating a cucumber raita (or tzatziki – same recipe, just a short journey across the Middle East) as a side dish with practically every meal.
I have developed such a addiction for it that I have been taking a tub with some flat bread and left over vegetables for lunch every day I am out. It's a really tasty, really easy, really cheap, and really healthy dish, and as an added bonus, it has practically no calories.
Just mix a clove of garlic (crushed), a good dollop of plain, yoghurt,  and a big bunch of mint leaves finely chopped.  Occasionally I might add a bit of coriander and/or cumin to vary it.
Finely dice a cucumber.  I'm growing a mixture of Richmond River White and Continental  cucumbers.  The Richmond River Whites need peeling, but I leave the peel on the Continentals.  I leave the seeds in both kinds but you may want to de-seed older cucumbers. Salt to taste and you have it.
(It's even better, and cheaper, if you make your own yoghurt.  Christine at Slow Living Essentials has the recipe. A supermarket cool bag or a lunch cool bag make a good insulated container,)