The easy way, they all say, is two fruit and five veg a day. It fits the Witches Kitchen definition of good food.  If you eat mostly fresh, local, in season produce, the rest isn't going to make a whole lot of difference, to your health, the planet's health, or your wallet's health.
My 2 and 5 change every day, but I thought I might try to pick favourites for the week.  The things that are really at the peak of their season.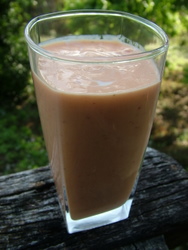 The two fruit this week are strawberries and pawpaw. Neither of them travel too well, so I'm having them as a smoothie for breakfast, as fruit salad, in porridge, and as a slice and in baking.  There's still a few citrus around, but they're on the way out, and there's early stonefruit just starting – we ate the very first of the plums this week. We have lots of tamarillos pretty well year round, and bananas when I can stop the turkeys from getting them. But strawberries and pawpaws are the ones to take advantage of while they're on.
The five veg this week are:
Broad beans – I picked the very last of them this week. It's been a good season for them this year.
Asparagus – they only have a short season, and this is the peak of it.
Broccoli – I keep expecting the cabbage moths to arrive, but they haven't yet, so I am still harvesting broccoli every day.  It is always a good crop, bearing heavily for a long time. But not for much longer now, so I'm making the most of it.
Zucchini – I'm picking the first of the new season's zucchini already.  I know that within a few months I'll be over them, but right now it's very exciting.
Kale – It was a tussle for number 5.  Kale won because, like all the brassicas, (cabbage, caulis, broccoli, kohl rabi) it will be all over once the cabbage moths arrive – not worth the effort to protect in the home garden, expensive to buy organic, and the supermarket stuff will all be heavily sprayed.  I only have a few kale recipes up but that's not a true picture. We eat some version of greens as themselves as a main or side dish  several times a week. Kale is great simply braised with a little butter and garlic, or olive oil and balsamic vinegar, and I add it to every stir fry, soup or frittata.  And it's a super food, a fantastic source of antioxidants, anti-inflammatories, anti-cancer glucosinolates.
So that's my 2 and 5 this week.  I know it will be exactly opposite in the northern hemisphere, more like my May list, but I'd love to hear whether it's very different in other parts of the southern hemisphere.