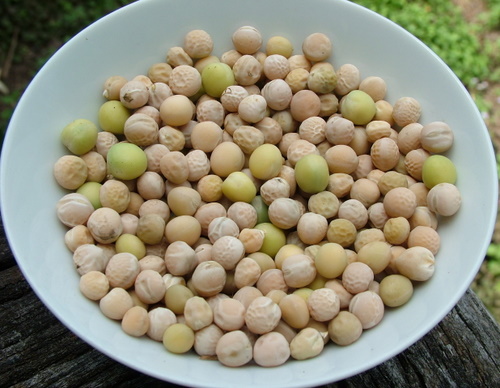 I cleared out the spent snow peas this morning and mulched up where they were ready to plant out some tomatoes next fruiting planting break.  I ended up with this bowl of pea seed.  Now the dilemma: should I save them to plant next year, or make hummus of them?
On one hand, it's enough to make a nice little batch of hummus, and I have newly harvested garlic and still some lemons and some tahini.  On the other hand, it's much more valuable as seed – there's about 400 seeds in there,  roughly $25 worth.
But on the other hand, they're Oregon Giant, which I don't mind as a variety and I'd like to plant again, but they're not the variety I loved for years but forgot to record where I got the original seed from and then forgot to save seeds, so lost the variety.  I'd rather like to buy seed again next year and keep trying to find it again.
But on the other hand my snow peas all did pretty well this year (after they got through the stage of mice eating them before they even germinated), and it was a wet year, one to test them against powdery mildew, which is usually my pea bane.
But on the other hand, these seeds haven't been selected as seed – they're just the ones that I didn't get around to picking. There're not the biggest, sweetest, strongest, earliest.  And they might have crossed with the peas planted at the same time.  But on the other hand sometimes that kind of cross gives good results, or at least interesting ones.
But on the other hand, they're lovely fresh organic peas and will make the best hummus.  It's a dilemma.
[relatedPosts]