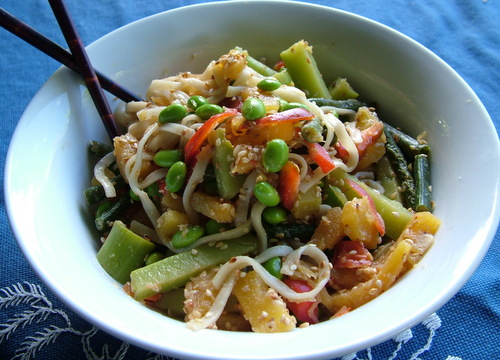 It's hard to go past eating endamame straight from the pod, just boiled for 3 or 4 minutes in heavily salted water.  They taste a bit like boiled peanuts to me, a kind of nutty seedy taste that is totally addictive. But for the   Tuesday Night Vego Challenge this week, I saved some for an actual meal.
They're actually just young, green soy beans. I think vegetarians can overdo it on the soy beans. They're high in protein, fibre, vitamins A, C, K and folate, iron and calcium, and also phytoestrogens that  might be good for you or not depending on your natural oestrogen levels. But they also contain a number of compounds that can cause health problems in excess.
But my main issue with soy beans is the way they are grown, with heavy dependence on GM modified seeds and herbicides.  My homegown endamame have none of those! And they are in season for such a short time, there's little risk of overdoing it.
If you don't grow endamame, you can find them frozen in Asian grocers apparently.  They're a traditional Japanese favourite.  Or you could substitute beans or peas just cooked until they are al dente, or anything really – besides the endamame, it's the dressing that makes it.
The Recipe:
Makes 2 large bowls. Double for more.
The Endamame:
Bring 600 ml water to the boil and add two heaped dessertspoons (or four big teaspoons) of salt.
Add a cup of endamame in their pods.
Boil for 4 minutes, cool enough to handle, and shell.  It will yield about a third of a cup of beans.
Noodles and Vegetables
While the endamame are cooling, boil a cake of egg noodles and blanch 1 ½ cups of julienned vegetables.  You can use whatever you have. For this lot I used carrot, snake beans, zucchini, pumpkin, but you could use a variety of vegetables.
Julienne a small capsicum
Toast a good spoonful of sesame seeds in a dry pan till they just start to colour.
Dressing:
Shake together in a jar:
1 teaspoon each of crushed garlic and ginger 
little bit of chili
scant teaspoon honey
juice of half a lime
3 teaspoons soy sauce
Taste and adjust the lime/honey/soy ratio to your taste
Assembling:
Toss the endamame, noodles, blanched vegetables, capsicum and toasted sesame seeds together with the dressing and pile into bowls.
Do you have a favourite fast, easy, healthy, in-season, midweek vego recipe?  Links are welcome.
[relatedPosts]