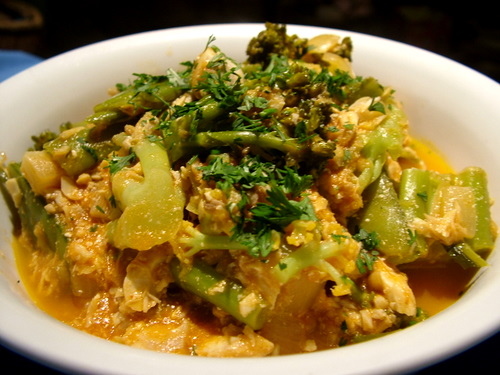 The fishing hasn't improved.  He's still catching mostly Australian salmon.  Luckily, the recommendations are  to eat oily fish at least a couple of times a week, and Australian salmon are one of the best oily fish.  And they're one of the few on the list that are sustainable – gemfish are a threatened species, blue-eye trevalla are often long-line fished, Atlantic salmon are all farmed, and canned tuna is overfished, threatened, and fished in wasteful and destructive ways.
Australian salmon may not be a prized eating fish, but you can make a dinner from them that people will go back for seconds.  Which is just as well, because they're a big fish – you get a lot of meals from one. The tricks are: they must be very very fresh, filleted to remove the dark  "blood" meat, the skin and the fat just under the skin, and used in recipe that includes some acid (tomato, lemon) and involves flaking them.
The Recipe:
With a mortar and pestle, mash together to a paste:
1 dessertspoon of chopped fresh ginger
1 small dessertspoon of chopped fresh turmeric (or a teaspoon of powder)
3 cloves of garlic
Fresh or dried chili depending on your chili and your taste, but not too much. I use ½ teaspoon of dried chili
1 teaspoon of coriander powder
1 stalk of lemon grass
In a little olive oil in a large pot, saute a chopped onion till translucent.
Add the spice paste, and continue cooking for a minute, then add
700 grams of fish fillets chopped into bite sized pieces (white meat only, skin removed)
700 grams of vegetables (broccoli, snow peas, cauliflower)
1 jar of tomatoes
4 kaffir lime leaves
scant teaspoon salt
a cup of water
Bring to the boil and simmer for 10 minutes or so until the vegetables are tender and the fish is flaked.
Take the pot off the heat and stir in 5 good dessertspoons of plain low fat yoghurt. If you bring it back to the boil at this point, the yoghurt will curdle.  It will still taste good but it won't look as creamy.
Serve with rice and chopped fresh coriander to sprinkle on top.
[relatedPosts]