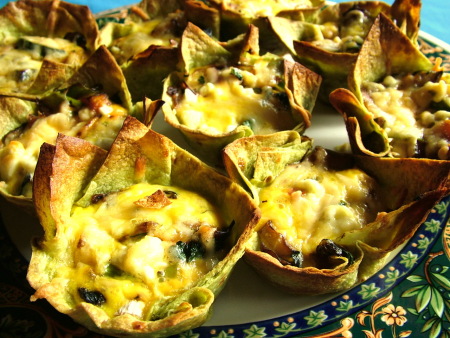 If you are watching your weight and getting bored with lunches, this is a nice way to mix it up – looks and feels really indulgent but in fact you can eat four of these with a salad for lunch and be within the CSIRO guidelines. They're also much easier than they look – a batch will take you less than 15 minutes to make, then another 15 minutes to bake. Great hot but equally good cold in a packed lunch.
The Recipe:
Turn the oven on to heat up.
Saute a filling mix of finely chopped vegetables – whatever is in season.  For this lot I started with a chopped onion, added a mild chilli and some garlic, then chopped pumpkin, zucchini and  mushrooms, then right at the end some parsley, basil, amaranth, and spring onions.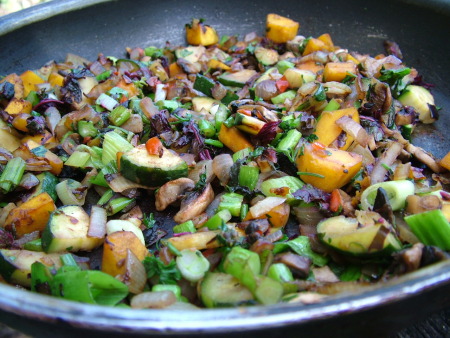 While they are sauteing, beat together 4 eggs, 4 dessertspoons of low fat cottage cheese, and just a dash of milk.
Brush 3 sheets of flatbread (Lavash bread or wraps) well with olive oil and cut into quarters.  Squares will give you little corners on the finished quiches, which will go nicely crunchy in the oven.  Line cups of your muffin tray with the flatbread, with the corners sticking up above the top.
Fill each cup two thirds full with the filling, then spoon in the egg mixture.  You can fill the cups up, but don't overfill (or they will stick).  Sprinkle just a little grated parmesan on the top of each and bake for about 15 minutes in a moderate oven till set and golden-crisp.