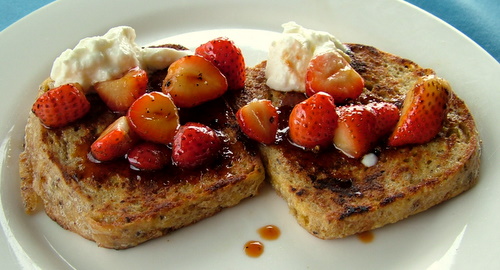 It's unusual spring weather this year.  Much cooler and wetter than normal, the result of another La Ninã pattern in the Pacific and positive dipole in the Indian Ocean.  It's perfect weather for slugs and snails.  Here I am with the best strawberry patch for a few years, the reward for getting it together to pot up runners in midsummer last year, replant them in a well composted spot last autumn, and mulch them heavily in early spring.  And it has to go and be perfect slug weather.  Not fair!
Each morning early I've been picking strawberries, half for the chooks, slugs and all, and half for me.  Luckily half is as many as we can eat, but it does seem very decadent for the chooks to be getting a punnet of strawberries a day! I'm thinking I should put out some beer-traps.
The Recipe:
Use an egg beater to beat one small egg per person with just a little bit of milk.
Dip slices of good bread in the egg mix and  fry in a little butter or macadamia oil until they are crispy golden.
While the french toast is cooking, hull and halve the strawberries and put them in a bowl with just a teaspoon per person of honey and a teaspoon of balsamic vinegar. (Maybe I am weird, but I like a grating of black pepper too. )   Toss through to coat the strawberries.
As soon as the toast comes out, turn the heat off and while the pan is still hot, toss in the strawberries marinade and all.  Cook for just half a minute or so, just to warm and glaze the strawberries, then tip them out onto the toast.
Serve with a dollop of plain yoghurt.
[relatedPosts]
(The Breakfast Cereal Challenge is my 2011 challenge – a year's worth of breakfast recipes based on in-season ingredients, that are quick and easy enough to be a real option for weekdays, and that are preferable, in nutrition, ethics, and taste,  to the overpackaged, overpriced, mostly empty packets of junk food marketed as "cereal" .The Muesli Bar Challenge was my 2010 Challenge.)