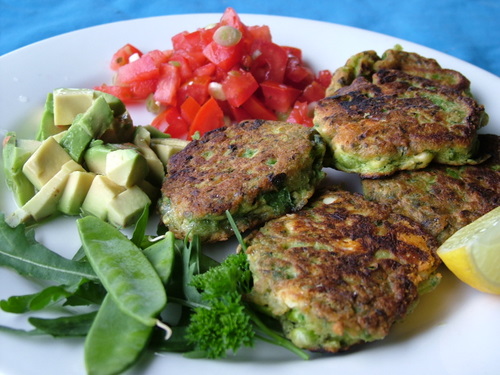 I just realised the photo I have taken of these is practically the same as the Spinach and Feta Omelette Pikelets a few months ago, and not too dissimilar to the Sweet Corn and Capsicum Omelette Pikelets back in autumn.  That is because some version of this recipe is one of our weekend brunch staples.  They are  such a great healthy, filling, tasty, low calorie idea that I have tried the concept on whatever is in season lots of times over.
The result is a few combinations that work really well, and this is one of them.  I am picking lots of fresh peas from the garden now.  I'd like to be able to let some dry on the plant to save for making hummus and pakoras, but it looks like this year and this variety will succumb to powdery mildew before then, so I'm making the most of them while they last.
This recipe makes a dozen omelette pikelets with just three eggs.
The Recipe:
Shell 1½ cups of peas and  cook them in boiling lightly salted water for a few minutes until tender. With fresh peas this will take only 3 or 4 minutes.
Finely chop about half a cup of spring onion, greens and whites, and half a cup of fresh mint.
Separate the yolks and whites of three eggs.
Use a potato masher to lightly crush the drained peas, then mix them with the egg yolks and the spring onion and mint.
Whisk the egg whites with an egg beater until they are light and fluffy.  An old fashioned egg beater will do this in literally 20 seconds. Fold them into the pea mix, along with a scant tablespoon of wholemeal self raising flour.
Drop tablespoons of the mixture into a pan with just a little olive oil, and fry on a medium flame till they are set and golden.
They are good with something with a bit of tanginess on the side – a slice of lemon or lime, a tomato salsa, chutney or chilli jam.