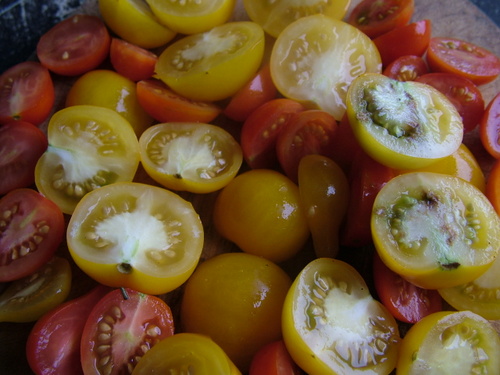 I live smack bang in fruit fly territory.   Bactrocera tryoni – Queensland Fruit Fly.   They seem to be getting, if anything more prolific as the climate heats up, and I think over the years I've tried every known method of control, short of spraying, which I can tell without  trying it wouldn't work.
The pheromone baited traps catch lots of male flies, but it makes no real difference to the infestation. It probably just breeds dumber fruit flies.  The protein baited traps catch lots of fruit flies of both sexes but there is so much rainforest fruit around, and other people's gardens, that  there's a nearly infinite number where they came from.  Pruning trees low and covering with a mosquito net works if you get the net on early enough, and it has no holes and goes all the way to the ground. But nets only last one season in the weather, and pruning means you have a small tree without a lot of fruit. Bagging each fruit with cloth, mesh or paper exclusion bags works if you get the bags on early enough, but it's a huge amount of work.  And if you can't see through the bag, it's hard to know when the fruit is ripe.  Predators work, especially spider webs and insectivorous birds, but they just keep the population down, not out.  Planting varieties that fruit very very early – October – used to work but seems to be less and less effective.
These days my best strategies are:
Give up on the things that are really fruit fly prone – it's just not worth the effort.  So I've been cutting out the stone fruit trees, leaving just the tough skinned seedling peaches that have some resistance.  I plant one or two rounds of beefsteak type tomatoes like Brandywine early, but for mid and late season tomatoes, I go for Roma and cherry types that are fruit fly resistant.
Love spiders.
Enjoy the fact that for home consumption, you can just cut fruit and eat the good half.  It's sometimes hard to tell from the outside.  These cherry tomatoes, for example, all looked fine, and most were, but if I had been aiming to sell them, this one fruit fly infested one would have made the whole lot unsaleable.  My peaches are often stung but I can cut out the stung part for the chooks, and put the rest in the fruit salad.
Allow chooks, ducks and geese to forage below fruit trees.  They clean up fallen fruit and like the fruit fly infested ones best.  Pick fruit fly infested fruit and feed to the enclosed chooks.  This breaks the breeding cycle, but there's an infinite supply breeding in the native figs and wild fruit, so it doesn't make any serious impact on populations. It does, however, turn a waste into a resource.
So breakfast for my chooks today was a bucket of stung Bishops Crown chilis and a bowl of stung tomatoes, and breakfast for me was toast with the one last of the brandywines, miraculously unstung,  and everyone is happy.
[relatedPosts]