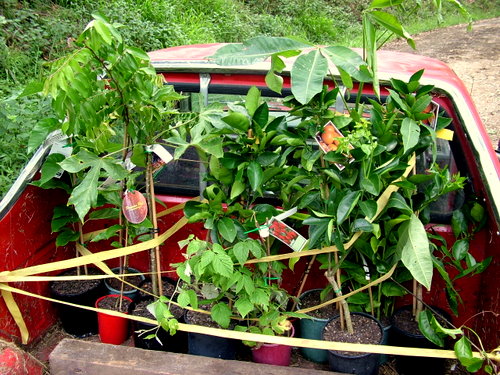 Now if I can only think of a way to wrap a tree!
Shopping for fruit trees feels like little bit of freshness in amongst the consumer bloat of Christmas. It lets me imagine an economy based on trading services and skills rather than stuff, where the alternative to trashing the earth with planned obsolescence isn't unemployment and depression, but creating real heritable wealth.
Our local nursery (Daley's for those around here) has a 25% off special on fruit trees. I have way too much to do at the moment to think about planting fruit trees.  It's not just a matter or digging a hole and sticking them in.  Besides the mulching, composting and watering they need to do well anywhere, at our place they have to be  protected from the wallabies.  But I couldn't resist.
Two passionfruit – a Hawaiian Yellow and a Panama Red – two oranges – a Valencia for summer fruit and a Newhall for autumn – a raspberry – we're limited with berry fruits this far north but I'm going to give raspberries a go – a honey murcott mandarin to extend the late season a bit further still – a dwarf mulberry – hoping to be able to net the tree and save some from the birds – a galangal because the turkeys got my last one – a malabar chestnut (which is not a real chestnut but a tropical relative of sapote) just to try – another pitaya (dragon fruit) – a babaco and two carambolas.
In normal years I wouldn't be thinking of planting fruit trees this time of year – it would be frizzle weather right now with days that could kill a baby tree in one day.  I would wait until late February/early March when traditionally it is our wet season.  The weather would be cooling down but still enough growing season left for a tree to get established.  But with La Niña in full swing this year, I am going to plant most of these in the roots and perennials planting days later this week (and hopefully write a post about how). The others – I think I might have to give up and just tie a ribbon round the pot!
[relatedPosts]