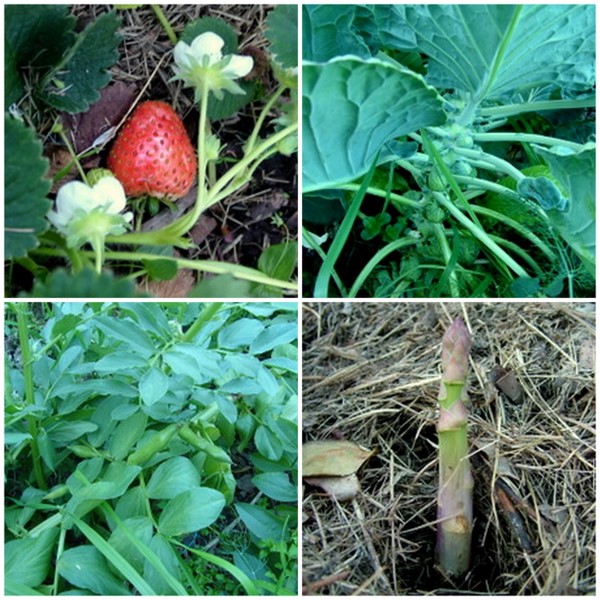 Plants know.  Well, mostly they know. They do get it wrong, but a lot of years of evolution have gone into picking the change of season.  Despite the cold snap we've been going through, this morning my garden reckons Spring has truly sprung here.
First of the season's strawberries and asparagus are telling me so.  (The first of the season broad beans and brussels sprouts are just in there because I am so happy to see them.  Here on a high, nearly frost free site in northern NSW, I am right at the limit of their climate range.  Some years, spring springs too early to get a crop at all).
So, it's a bit risky.  Last night was cold enough to really upset a baby zucchini or eggplant.  But I'm trusting my asparagus and planting out the advanced seedlings of summer crops that I've been raising in my shadehouse.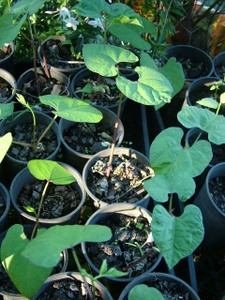 I'm planting out Blue Lake, Purple King, Madagascar, and Brown Seeded Snake beans, Roma and Principe Borghese tomatoes, eggplants,  Corno de Toro, perennial, and Baby Flat capsicums, golden squash, blackjack zucchini, Trombocino,  mini white and continental cucumbers – all planted as seed last month.  My rockmelon and watermelon seeds didn't come up – just too cold for them even protected.  I'll try again this month.
And I'm putting another round of seed of all of these in so as to have continuity of supply.  The trick at this stage is not to get too excited – only plant a few of each and leave room for sequential planting,  so as to avoid the boom bust cycle of gluts and shortages later.
So two, just two zucchinis are going out.  The other two I'll keep in the shadehouse for a week or two, just in case the asparagus got it wrong.  But then I'll recycle the potting mix.  Hold me to it!
[relatedPosts]