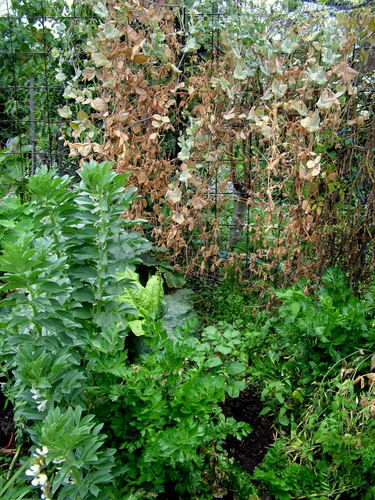 I so so so hate it when I lose a variety!
For years I have had a variety of snow pea that resisted the powdery mildew that the early spring warm weather up here brings on.  It was shorter than most climbing snow peas – about 1.7 metres tall, with a white flower and a really prolific crop over a long time, bearing right through the warming September weather.
Last year it bore so much that we couldn't eat all the snow peas, and I let some go to seed and dry off on the vine and turned the peas into hummus.  But the hummus was too good, and when I went to plant this year I discovered I'd gone and cooked them all.
Usually I have a back up plan or two – friends that I've given the seed to, and a garden diary entry somewhere telling me where the original seed came from.  But both these seem to have failed this time.  I went ahead and planted a new variety – Melting Mammoth – which is supposed to be wilt resistant, but as you can see, they just haven't done it. We have had a few good picks from it, but nothing like the crop of last year's variety.
The consolation is that at least I have room for planting the summer fruiting seedlings I have been raising in the shadehouse. These guys are coming out today, and in their place is going the San Mazano tomatoes and the tomatillos I planted as seed in mid-winter.  I'm also planting out the capsicums (Corno de Toro), eggplants (Snowy and Red),  and basil (lime and Thai).
I have one (just one – I'm being disciplined!) continental cucumber to plant out, and one zucchini and one squash.  I shall try to get some distance between them and the peas because they are also susceptible to powdery mildew, but maybe it's a different kind because they don't seem to be that vulnerable – or maybe they are benefiting from the nettle and seaweed brew I've been feeding them in the shadehouse.
In their place in the shadehouse this time, I'm focusing on beans.  I always have a dilemma about beans – there are so many good varieties.  I really liked the Purple Kings last year, not so much for fresh beans as for the big pink seeds as a kidney bean substitute.  I like Blue Lake for the white cannellini beans as well as for fresh green beans,  and brown seeded snake beans are always my favourite for fresh green beans.  I have some zebra beans that I want to try as well  this year.
But if anyone has any idea what my snow pea variety was, I'd love to hear.  And this time, I'll write it down!