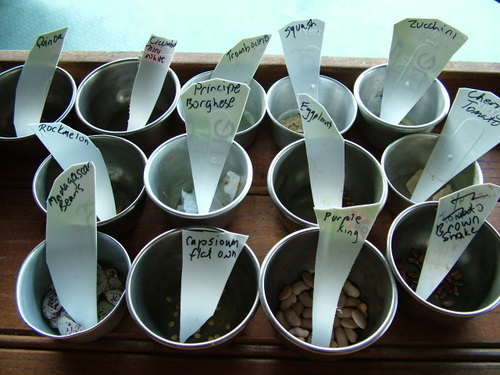 The trouble with luffas is that I want them for Christmas, to go with my handmade soap. But I can't plant them early enough here for them to mature and then allow time to clean and dry before Christmas.
So every fruiting planting day through spring, I get the seed packet out, look at it, decide that they will like the weather a bit hotter and since they won't be ready for Christmas anyway they can wait, and put it back in the seed box. Then the the zucchini and squash start making like triffids and I forget that I swore and declared I would plant only one cucumber each planting break, and  I remember how many varieties of beans I want to find space for, and by this time of year, I get the luffa seed packet out, look at it, decide that there really isn't room this month and put it back.
Then every Christmas I think, wouldn't it be perfect to have some luffas to go with the soap.
So this time, I planted some seeds.  They're old seed, left-over-never-planted last year's poor neglected seeds.  But if they germinate, I am determined to find them some space and next Christmas, I'll have luffas.
This gardening really is practice in deferred gratification!
Besides the luffas, I planted just a few seeds each of zucchini, button squash, tromboncino, rockmelon, and cucumbers (Chinese Snake this time).  All in individual pots. I shall keep them in the shadehouse for a few weeks and then choose the strongest one or two of each to plant out into the garden.  I also planted a couple of dozen each of Purple King, Blue Lake and Red Seeded Snake beans, two to a pot, and I'll plant them out in a few weeks when they're 15 cm or so tall. And some sweet corn – just 12 plants which is probably too few in a patch to guarantee pollination so I'll have to hand pollinate, but I have 2 small patches in already and there just  isn't room for more.
And I planted a row of seed of tomatoes (Principe Borghese and yellow cherry), eggplant (Mini Violet Ruby this time) and capsicum in a seed raising box. I'll transplant the strongest half dozen of each into individual pots at the two leaf stage, then out into the garden when they are a good 15 cm or so tall.  This will be the last round of eggplants and capsicums for the season.  The summer solstice is just a few weeks away now.
[relatedPosts]