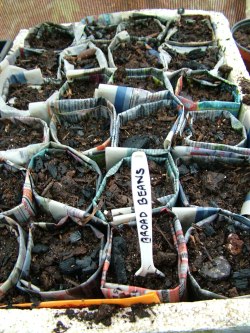 There are fruiting planting days from today clear through till Thursday, and today brought some nice light rain perfect for bedding in seedlings.
All my first round of peas and snow peas are now out in the garden and I have planted a new round of seeds in paper sleeves in the shadehouse.  This strategy is working particularly well for me at the moment as I have some beans and some cucumbers, both a bit ratty now but still yielding in the trellis space they will move into in the garden.
I have also planted a box of broad bean seeds, using the same technique. My climate is right on the margin for broad beans.  I have to get the timing just right to get enough cold for them give a decent crop, and get it in before they just become an aphid red light district in spring. Luckily I'm not overly fussed about broad beans, because I'll only get this one round of them.
I've mixed quite a lot of wood ash into the potting mix, and I'll add some more when I plant them out.