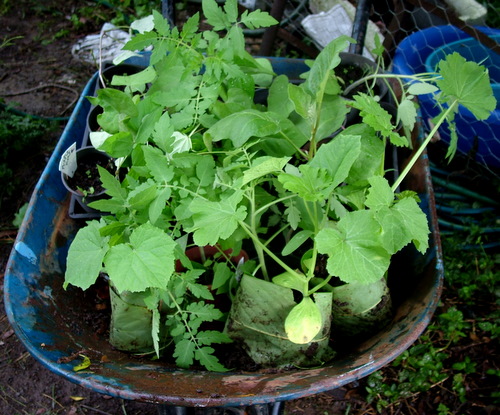 I'm planting:
(All well advanced seedlings)
Zucchini (Blackjack)
Squash (Sunburst)
Cucumber (Richmond Valley)
Tomatoes (Red and Yellow Cherry)
Capsicums (Corno de Toro)
Chilis (Jalepino)
Beans (Brown Seeded Snake and Blue Lake Climbing)
Eggplant (Striped)
The eggplant is a bit of a long shot.  It is really too late, even for seedlings 30 cm tall like this one.  But it is a new variety I couldn't resist, so I'll give it a very sunny spot and hope to get some fruit. It's too late for the Jalepino this year too, but this is a variety that has overwintered for me before, so I am hoping to have well established plants that will bear early next spring.
In the shadehouse, I'm not putting in very many new seeds this time.  It's an in-between season for fruiting annual seed planting – too late now to put in more seed of eggplants or capsicums, too early for peas or broad beans.  I have put in another couple of seeds each of zucchini, squash, and cucumbers but they are hopeful – if we get an early cold snap I might only get a few weeks bearing out of them.   But then again…last year we were harvesting cucumbers right through to July. I have put in another round of cherry tomatoes – up here I can often get them to bear all the way through winter – but I won't put in any more beans – I'm saving the trellis space now for peas.  Time goes so fast in the garden!
[relatedPosts]