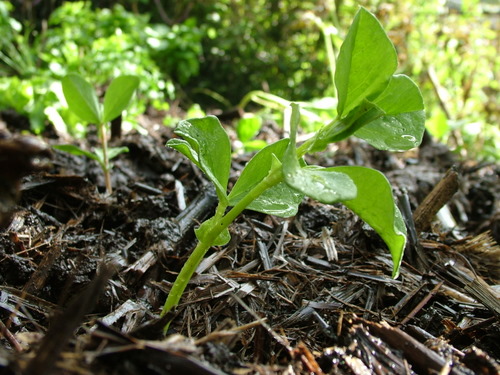 The Broad Bean seeds I planted nearly a month ago are up and looking healthy, and I have a spot where some zucchini and squash have just come out, so today they're going out into the garden.  It marks a real turning point. The autumn planting is here!
They were potted up in my usual compost and creek sand mix with some wood ash mixed through, and I'm giving  each a good double handful of compost mixed with wood ash as I plant them out.  My soil is a bit more acid than they like it, and the ash will bring the Ph up a bit, and the potassium levels too.  I'm watering them in with some seaweed and nettle brew to help them stave off the last of the summer's aphids.  I've been using Aquadulce variety the last few years, and planting earlier than I used to, and it seems to be working except that it means I'm planting out while aphids are still around and broad beans would have to be one of their favouries. But by planting earlier, and an early variety, I"m getting decent crops even this far north, right on the margin of broad bean territory.
I shall plant another round of seed in the shadehouse today too, so as to have at least one successional crop.  And I'll plant the first round of peas and snow peas. I only plant climbing varieties these days.  The return on space is so good. I have Telephone and Massey Gem peas and Oregon Giant snow peas.  The Oregon Giants did well for me last year but I'm still looking for a variety  I used to have  that was such a good bearer – a relatively short climber – about 1.8 metres – and very mildew resistant. If anyone knows what it might be?
Last year the mice got my early rounds of peas and snow peas and in the end I had to bring the potted seeds inside and rig up our Weber barbeque as a sort of temporary propagation house.  This year I have my fake owl, and the broad beans all survived without being stolen, so I'm hopeful.  But I've brought one pot inside just so I can monitor when they should have germinated.  If the mice get them, I won't wait so long to replant this time.
I shall also put a couple of kinds of tomato seeds in a propagating tray.  Yellow cherries and Principe Borghese have both done well for me as winter tomatoes in the past.
A nice easy, slow Sunday morning in the garden. Then time to bake bread, read the papers right the way through, go for a walk and see how the creek is faring, chat on the phone to my kids for ages, and maybe even light the fire under our outside bathtub for a "star bath" tonight. Mmmm Sunday.
[relatedPosts]