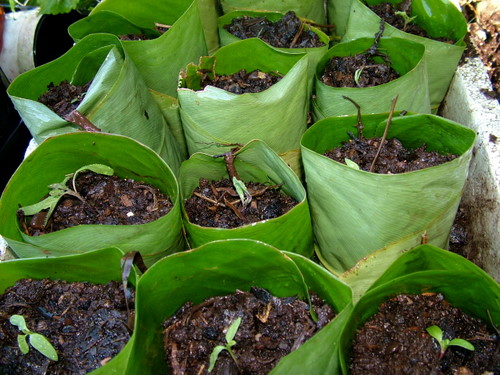 Everything has lined up beautifully for a planting day today – no bottlenecks for once.  I have old compost and creek sand for seed raising and potting mixes, seeds and seedlings for planting, a new bed just vacated by the chooks ready to plant into and mulch to mulch up the spaces in the old beds, a barrel of old seaweed brew, a dam full of water, a lovely cool, slightly overcast day following some good rain yesterday, and a Sunday free.  When all the bits are there, the assembling is so easy, and I can feel like I get so much done in a day.
I have a seed germinating box full of tomato, capsicum, and  eggplant seedlings planted last month, all now at the two leaf stage and ready to pot on.  I have been selecting the strongest three or four of each and potting them in individual pots, and planting another round of seed of each to give me continuity of supply.
I also have seedlings of several varieties of beans, cucumbers, zucchini, and squash ready to plant out, and I'll plant another round of all of them too, skipping the seed germinating stage and planting directly into individual pots.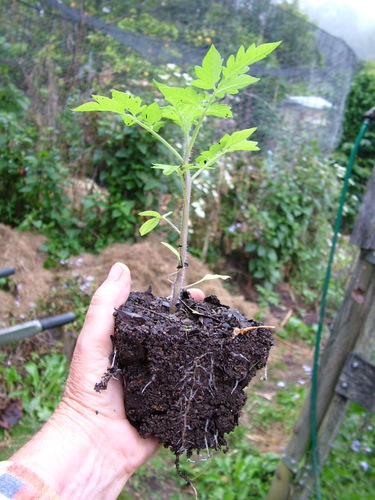 I have seedlings planted the month before now a good 15 cm tall and ready to plant out.  I took the leaf-tube pot off to show you the root development.  This seedling has had a month in its own private pot of compost mixed with a bit of creek sand.  For the last week it has been out in full sun, and I can plant it out now without damaging the roots at all, and it won't miss a beat.
If I plant it into a newly chooked bed, I won't need to fertilise any more at all.  If I plant it into an older bed, I might give it an extra handful of compost and surround it with a good thick layer of mulch.  It's a Principe Borghese variety so it is indeterminate, so it will grow tall.  I shall plant it next to a fence in one of my fortress fenced beds (one of the advantages to having to fence intensively is ready made trellises) and tie it up to the fence as it grows.  I'll water it in, but then only water if we get a few weeks without any rain.  From now on, it's pretty much on its own till it comes to picking.
And then, just because I can, I'm going to break all my own rules and plant some sweet corn seed directly out into the newly chooked bed.  I didn't have any seed to plant last month, so I'm a bit late with the corn, and now the bed is ready.  I shall put some in pots as well at the same time, so I have some to fill any gaps from no-shows.  I am aiming for about 16 plants – just about the minimum number I am likely to get away with to get a good rate of setting of kernels on the cobs.  But I don't want too many at once.
It's just about the biggest planting day of the year, and it's so nice when it all comes together without a bottleneck.
[relatedPosts]