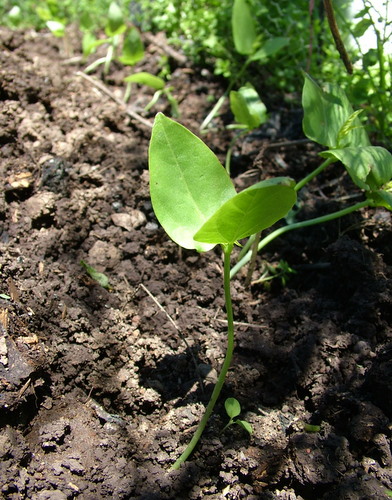 Back in March, I wrote a post about A Garden With Stamina – a garden that will keep producing even when you have no time at all to spend in it.  I've struck another of the kind of perfect storm I wrote about then. They come up more or less regularly for me – part of the price you pay for "roll your own" employment.  I came home this week to a very soggy weedy garden, and a shadehouse full of lanky overgrown seedlings.
On the positive side though, the rain has germinated lots of self-sown seedlings and amongst the weeds are volunteer tomatoes, chillies, lettuces, amaranth, rocket, pumpkins and celery, and probably lots more I haven't found yet!
I shall ditch the lettuces in the shadehouse – this time of year they are bursting to bolt to seed at the least excuse, and anyhow these ones will already have developed a bitter taste that won't go away.  You can only get away with being a bit negligent with lettuces in autumn. The rest of the year they need to be treated like souffles. The self-seeded ones are much happier.
I shall also ditch the silver beet – the seedlings are already going to seed in the pot and they were a long shot anyway.  If it's a wet summer they will develop fungus diseases, and if it's dry there will be grasshoppers.  The amaranth is ok but I have plenty self-seeded so it's going out too. My parsley has all carked it – the adult plants in the garden and the babies in the shadehouse – just too wet for them.
But I shall plant out the basil – sweet basil, lime basil, and Thai basil all doing well in the shadehouse. I shall transplant the self-sown cherry tomato seedlings to a better spot and companion plant them with the basil.
And the bean seeds I germinated last month are a little bit big but still fine to plant out. I have spread the ash from the wood stove along the fence to raise the pH a bit for them.
This time of year I would normally have 10 to 15 cm of mulch cover over the entire garden but maybe fortuitously I haven't had time to mow.  I am giving each seedling a good handful of compost as I plant out to improve the drainage, and making it a priority to open up drains.  It is so nice to have the problem of too much water for a change!
And this weekend I am planting seed in the shadehouse of  zucchini, squash and cucumber – just one of each again – tomatoes (Grape), eggplants (Melanzana), sweet basil (Genovase) and lime basil, spring onions, sweet corn, lettuce (red and green cos), leeks (Musselburgh), capsicum (Corno de Toro), and brown seeded snake beans.
And I will have just about caught up!
[relatedPosts]