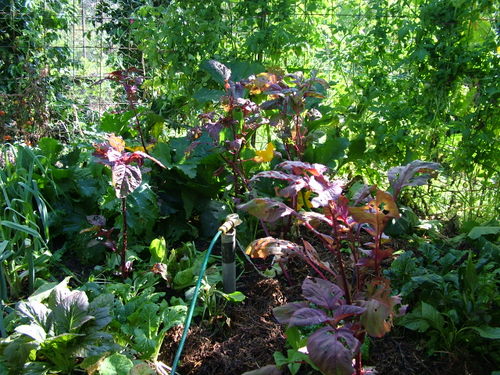 Remember the luffa seed I planted last month? It came up (a bit surprisingly – the seed was several years old). So today I planted out three seedlings along the left side fence of this bed, where some tomatoes came out.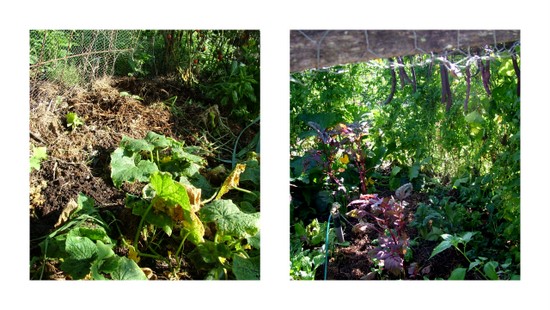 That's the north-western side, so it will make the bed very shady, but for the next few months, that's not such a bad thing.  The purple king beans on the eastern side will be finished before the luffa take over the fence, and the bed will get some morning light.  But in these long hot summer days, almost everything does better for a bit of shade.
From late winter until now, I plant climbers – beans, cucumbers, squash and tomatoes – along the fences all the way round from the eastern to the western side, and sometimes (usually a bit more lightly) on the northern side too.  The tallest beans even start to climb across the netting over top of my beds, the beans hanging down like fruit.
But from late summer onwards, I start planting climbers only from the south east round to the south west. From the summer solstice onwards, the sun will start dropping lower and lower in the northern sky. People are usually surprised when they actually measure it, how low in the sky the sun is in winter. We think of it like a child's drawing, with the sun directly above, but that's only the case for a few hours in the middle of the day in a few weeks in midsummer.  In fact climbers on the southern side of a bed won't shade anything to the north of them all day long, all year long.
Luckily most of the really rampant climbers are summer annuals, and in midsummer, I can let them be rampant climbers. Love those neat fits! In winter I only have to find space for peas and snow peas on the southern fences.
Today I've also planted out a new round of tomatoes (all four varieties, but only a four or five plants of each. I have learned my lesson! If I fill up every good tomato spot with tomatoes this year, next year I will have to either go without tomatoes, or plant again in places they've been recently, which will lead to soil bourne bacterial and virus diseases.) I'll put in another round of seed of cherry and roma types, but I won't chance any more of the Brandywine.
I've planted out a new round of beans – my three favourite varieties at the moment – Purple King, Blue Lake climbing, and Red Seeded Snake Beans – and another round of seed of all of them for planting out next month.  We eat some of all three varieties fresh as green beans, and some of all three shelled fresh or dried for storing. They don't seem to build up diseases like tomatoes do, but still, I like to rotate them.  Legumes produce their own nitrogen but make big demands on the phosphorus levels in soil.
I've planted another round of curcubits – cucumbers, zucchini and squash – seeds and seedlings. I had raised up some advanced seedlings of tromboncino too, but I've given them away.  Even the chooks are refusing to eat any more tromboncino, and the first vine I planted is still bearing so I think I have enough in already to see out the season.
I've planted out the eggplants and capsicum seedlings but they are long shots this late, and I won't plant any more seed now.  Only one poor lonely sweet corn came up. I think I have mice problems again. Where's that carpet snake when you want her! I'm not too annoyed – I have a couple of patches of corn in, the first one just about to start bearing. I'll plant another round of seed today and bring them inside, like I had to do with the peas this year.
And that's it. A lovely midsummer planting day. I know it's frizzle weather in many parts of the country, but here it's low 30s C and green. Too nice a day for the computer!
[relatedPosts]