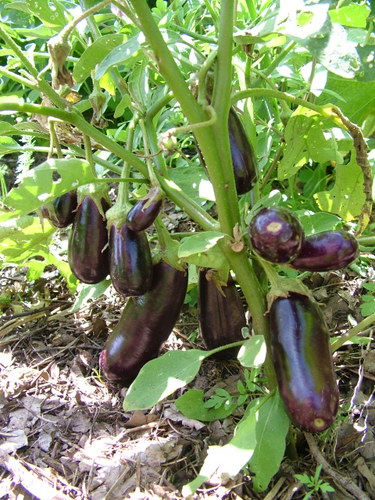 I'm very proud of these.  Eggplants are one of my difficult crops. In my garden they are prone to attack by flea beetles.  The flea beetles themselves are a nuisance – they chew holes in the leaves – but not critical.  But they spread virus diseases and the nightshade family (that eggplants belong to) is very prone to virus diseases.  And I live in an area where wild tobacco (Solanum mauritianum) is a  prevalent weed so it is impossible to break the cycle of disease by just having a break from all nightshades.
I'd love to be able to put my finger on exactly what I did right with these.  The seedlings were bought – something I rarely do, and only because I hadn't planted seed (too disheartened after last year's dismal eggplant harvest), and then succumbed.  They are "Little Finger", a variety I've tried before, but maybe this is a particularly strong cultivar?  They were planted late in the season – usually I try to get them started in September but these didn't go in until well into October.  They were planted in a bed that has been well chooked – that bed had the chooks on it at the peak of my crazy busy time and they were there for much longer than usual.  But the bed had tomatoes in it before that, and they're the same family… ?
My best theory is that they are companion planted with Thai basil on all sides, and the Thai basil was well advanced when the seedlings went in.  Because the bed is very fertile, the Thai basil has really grown big and leafy, but it wanted to bolt to seed a bit so I've been breaking off  the seed heads and dropping them as mulch around the eggplants.
I'm going to be sure to save seed from these, and try to remember to run the Thai basil experiment again next year.  But meantime, I'm relishing the idea of Smoky Eggplant and Pomegranate Dip with the pomegranates just coming into season too.
I know in many parts of Australia you are coping with frizzle weather, and my fingers are crossed that there are no fire catastrophes.  But here it is cool and overcast with occasional showers – jealous? So I've planted another round of beans – Red Seeded Snake Beans and Rattlesnakes this time, just a couple of metres of fence with each.  I've planted zucchini and squash and cucmbers and potkins, just a couple of each.  I won't plant any more tomatoes – I want to save some spots for next year and I've learned to be very careful to rotate tomatoes.  I'll plant out just two more advanced capsicum seedlings, and I've planted another dozen sweet corn.
With any luck we won't get your heat wave this time, I'll be able to keep water up to them and they'll survive, but if they don't, at least it's only this one batch of successional planting that I miss.
[relatedPosts]