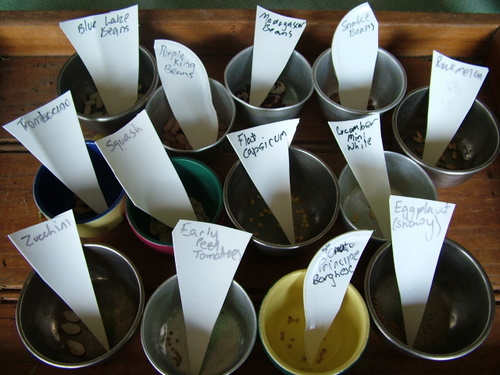 Yesterday's planting.  Note just three zucchini seeds, three tromboncino seeds, three cucumber seeds. I'm being restrained!  They are all fresh seeds, no leftovers from last year, and I have been sorting them like this before  taking them out to the shadehouse, so I am getting good germination rates.  I planted into potting mix in the shadehouse, and I shall choose only the strongest one or two of each to plant out into the garden when they are this size.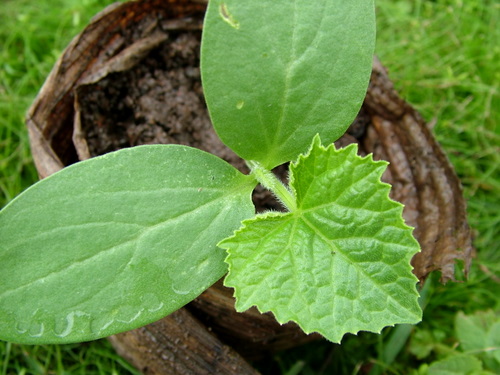 The rest I shall give away as seedlings, or just recycle the potting mix.
I already have the first of the summer fruiting annuals, planted in late winter, starting to bear.  And two other rounds planted since coming on.  It's still only late spring, so there are at least a couple more rounds to plant if I want to be harvesting zucchini and cucumbers right through to the first frosts next year.
A lot of the summer fruiting plants tend to be space gobblers.  You stick in just three or four zucchini, doesn't seem like much, but by the time you give them a few square metres each of space there's the whole garden filled up, no room for spring onions and beetroot, let alone for another round of zucchini next month. And even using every zucchini recipe in the repertoire –  zucchini fritters for breakfast, frittata for lunch and fricassee for dinner – there are only so many zucchini you can eat, and only so many you can foist on innocent passers by.
I've learned. It's taken me a long time to learn restraint in summer annual planting.   Even with tomatoes I'm starting to learn restraint.  I like to grow enough to bottle and dry some, but  I also like to be fairly diligent about not planting them in the same spots for two years in a row or they start to build up soil bourne diseases.  If I plant too many one year, the next year is lean – last year was a lean year with no bottled tomatoes for winter. Natural consequences.
Only the beans I can go nuts with.  What we don't eat fresh I let dry on the vine for dried bean dishes.  But even then, I want to leave enough trellis room for at least three more rounds.
So restraint is the mantra.
[relatedPosts]