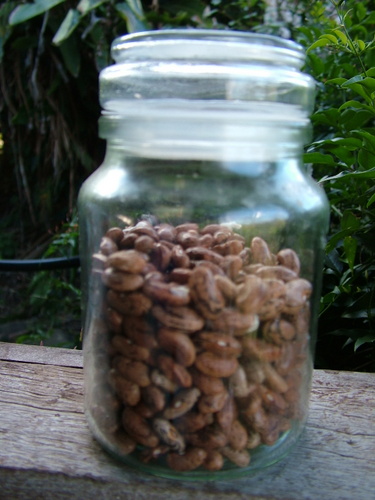 For one very scary moment I thought we had eaten the last of the beans saved from last summer.  But whew.  Plenty in the jar for planting for this year. These are Rattlesnakes,  my current favourite bean variety originally a gift from another gardener.  They're a tall, prolific climber and great as green beans or dried as a pinto bean substitute.  Which nearly got me into trouble through cooking all of them. Chili beans have been a staple this winter.
Today I'm planting a couple of dozen seeds of these in leaf pots, three to a pot and I'll weed out the weakest before planting them out in a few weeks time.  I would plant them directly if I had space but the bed they will go into is just about to be cleared and fertilised by a fortnight of chooks if I can get around to moving the chooks this afternoon. And every other climbing space has peas or snow peas still bearing or coming on, or is needed for the Blue Lake beans and tromboncino and cucumbers planted in pots last month
I'm also planting seed of tromboncino and cucumbers and zucchini and button squash by the same method. Yellow cherry, Yugoslav and Principe Borghese are my favourite varieties of tomatoes at the moment, so I'm planting a few seeds of each along with, tomatillos and capsicums in a seed raising box.  I'm skipping eggplants this year.  They are very prone to some kind of virus spread by flea beetles in my garden.  I'm hoping a year off will break the cycle.  I need to remember to be careful not to plant too many tomatoes for the same reason.  I try to avoid planting them in the same spot two years running or they build up disease (something I needed to learn the hard way, several times over – duh!) I always have enough chilis come up by themselves.
And I have an early planted cucumber planted last month ready to go out – Suyo Long is my favourite variety this year.  And a tromboncino or two, and a dozen Blue Lake beans about 15 cm tall already.  And the garden is full.
[relatedPosts]