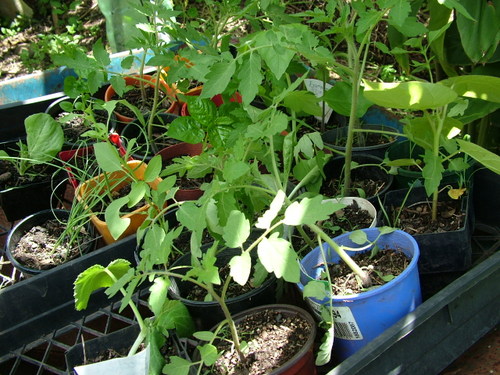 After all the rain, today is clear and sunny.  And though the creek has gone down enough to get across, the crossing needs some repair and it seems like a good idea to stay off the roads while water recedes.  So I get the day at home to go through all the seedlings in the shadehouse that need planting out.
I have Principe Borghese and yellow cherry tomatoes.  Both varieties are chosen for their fruit fly resistance and mildew resistance (autumn is often wet here), and they will cope with cold, so I expect them to keep bearing well into winter now.  I have one Blackjack zucchini. There are several bearing now, and the tromboncino. I'm learning not to overdo it on zucchinis!  I have a couple of Rod's Lebanese cucumbers. This is the first time I've grown them, so I'm not sure what they are like.  I planted some Giant Russian cucumber seed too but it was too wet and they failed to germinate.  I have a couple of chilis of different varieties and a couple of Supermarket Flat capsicums and a couple of eggplants.  This will be the last round for all of them.  The ones I have in now can be expected to bear through to winter now.
I've planted out the Rattlesnake and Red Seeded Snake beans.  I shall put another round of snake bean seed, and some Blue Lakes, in pots to germinate.  The bean jars are starting to fill up nicely now. I've also planted out another dozen sweet corn, and I'll put another round of seed in pots.
But I am very conscious of room at this stage of the year. In a couple of days it will be Lammas, the turning point when the days start to shorten noticeably. It won't be long now till it is time to start planting onions and garlic, and all the short day greens.  Lammas is the first of the three traditional harvest festivals, and it is easy to see why – the garden is looking so full, it's hard to see where they will go.
[relatedPosts]